After Sunday's 24-0 loss to the Dolphins, the Jets have dropped to 0-6. There's no denying that the hot seat is getting rather warm for head coach Adam Gase. At this point, his firing seems inevitable, even though he's only in Year Two of his Gang Green tenure.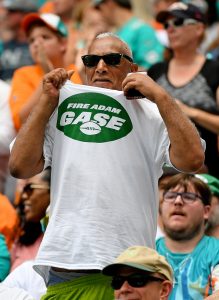 For a while, we've heard that the Jets plan to keep Gase through the end of the year. But, after their dreadful offensive performance on Sunday, keeping Gase might be hard to justify. Things aren't going to get much easier from here, either. The Bills, Chiefs, and Patriots are coming up, a stretch that could easily put them at 0-9 before their bye week.
Ownership planned to stick things out with Gase, largely out of concern for Sam Darnold, who is still only 23 and in his third pro season. The Jets may also be concerned about how they're perceived by coaching candidates early next year – a quick hook for a second-year head coach isn't necessarily a good look, especially given their track record for turmoil.
Gase has hardly had a competitive roster to work with since he was hired in January of 2019 and injuries have also taken their toll on the team. Still, it doesn't seem like Gase has command over the locker room. His feud with Le'Veon Bell didn't do the Jets any favors, either. Last week, the Jets released Bell outright, less than two years after signing him to a whopping four-year, $52.5MM deal. Granted, Gase didn't want him, and current GM Joe Douglas probably wasn't a big fan, either. But, Sunday's game showed that Bell's attitude was not the Jets' only limiting factor this year.
Will Gase make it to January? Vote in PFR's latest poll (link for app users) and weigh in with your thoughts in the comments section.
Photo courtesy of USA Today Sports Images.
Follow @PFRumors