Despite trading DeAndre Hopkins, the Texans entered the season with a bloated wide receiver payroll. They are now 1-6 and between GMs, leading teams to inquire about some of their players.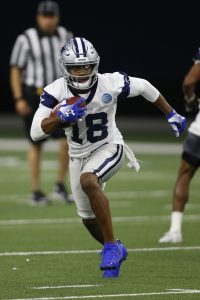 Teams have contacted the Texans about their wide receivers, per Aaron Wilson of the Houston Chronicle, who notes the team has fielded calls on Will Fuller and Randall Cobb (Twitter link).
The trade deadline looms Nov. 3, though teams who would like to deploy their new players in Week 9 would need to make deals this week in order for them to begin practicing ahead of those games. COVID-19 testing protocols require players to pass six tests — each a day apart — before practicing with new teams.
Fuller and Cobb represent half of Houston's veteran receiving corps, which also includes 2020 trade acquisition Brandin Cooks and 2019 trade get Kenny Stills. Fuller, who is playing on a $10.16MM fifth-year option salary, would bring far more value back to the Texans in a deal than a Cobb swap would. The then-Bill O'Brien-run Texans signed Cobb to a three-year, $27MM deal in March. Shipping out the 30-year-old slot receiver would not bring especially notable compensation, and Wilson adds the Texans are not receiving strong offers for either player as of Wednesday afternoon.
Houston having dealt Hopkins would seemingly make a Fuller trade less likely. He has emerged as Deshaun Watson's top target, hauling in 31 passes for a team-high 490 yards and five touchdowns. Although the former first-round pick is a free agent at year's end and has been unable to stay healthy for most of his career, the Texans do not have any surefire building blocks at this position for Watson moving forward. Cooks would qualify, but the O'Brien acquisition is on his fourth team. Cooks, 27, has also come up in trade talks. While the Texans appear ready to deal one of their veteran wideouts, it is unclear as of now which one will go.
Photo courtesy of USA Today Sports Images.
Follow @PFRumors