The most coveted quarterback prospect since at least Andrew Luck, Trevor Lawrence may be having second thoughts about leaving school early and becoming the 2021 No. 1 overall pick. At least, he wants to now keep his options open.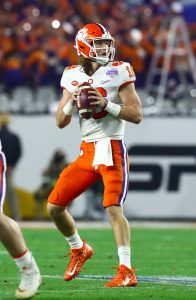 Lawrence said before the start of his junior season he would leave Clemson after the 2020 slate and enter the 2021 draft. Now? That is not a certainty.
"My mindset has been that I'm going to move on, but who knows? There's a lot of things that could happen," Lawrence said Tuesday during his media session. "… We'll just have to see how things unfold. There's a lot of factors in that. But honestly, just really playing this year. Putting everything I have into it. Not really focusing on next year whether I leave or stay. Obviously, I have the option to do either one."
This will be interpreted as the 6-foot-6 quarterback feeling uneasy about the prospect of playing for the Jets, who are 0-7. The Jets drafted Sam Darnold third overall in 2018 and have seen him regress this season. The franchise did not get it right with Mark Sanchez at No. 5 overall in 2009 either. And a return to school after being expected to declare and go No. 1 to the Jets would not be unprecedented. Peyton Manning returned to Tennessee in 1997, when the Jets held the No. 1 pick. They then traded down and did not draft a first-round quarterback until Chad Pennington in 2000.
However, there are six one-win teams — the Giants, Falcons, Vikings, Jaguars, Texans and Bengals — who have also emerged in the early portion of the #TankforTrevor pursuit. Of those, only the Bengals and Texans boast QB situations that would point to them trading the pick. While the Lawrence race is far from over, it certainly is notable the quarterback has backtracked from being a surefire entrant in the 2021 draft.
Photo courtesy of USA Today Sports Images.
Follow @PFRumors