In the immediate aftermath of the Colts' difficult loss to the Bills in yesterday's wildcard thriller, no one really expected Indianapolis signal-caller Philip Rivers to know whether he would return to the field in 2021. And sure enough, the 39-year-old QB, who became emotional towards the end of his postgame presser, indicated it might take some time for him to make his decision.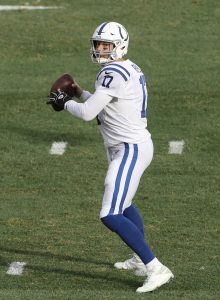 "I don't go this route with an answer often, but I think this probably sums it up. Whatever God's will is for me and my family, if it's here in Indy playing another year then we'll be here," Rivers said (via Josh Alper of Pro Football Talk). "And if it's not, I'll be on the sidelines with a ball cap coaching the heck out of a high school football team down in south Alabama. Whatever God's will is is what I want to happen, and I'll be fine with that."
If Rivers chooses to come back — and he did say shortly after he signed a one-year contract with the Colts that he wanted to continue his playing career through the 2021 season — Indianapolis would surely welcome him with open arms. His 2020 performance was solid, if not spectacular, as he completed 68% of his passes for 4,169 yards and 24 TDs against 11 interceptions (good for a 97.0 QB rating, 13th-best in the league). On the other hand, the Colts did squeak into the playoffs despite playing the NFL's easiest schedule, and their offense was just 16th in DVOA.
So look for the club to draft a young signal-caller if Rivers re-ups for one more season. If Rivers decides to call it quits, Indianapolis could obviously still turn to the draft for its long-term solution, or it could make a play for Eagles QB Carson Wentz. There will also be one or two somewhat intriguing names other than Rivers on the free agent market.
Despite the interest that TV networks reportedly have in Rivers, his statement yesterday afternoon suggested that he remains committed to coaching high school football, which he has talked about previously. But television probably pays a bit more than high school ball, even in Alabama, so we'll have to stay tuned.
Photo courtesy of USA Today Sports Images.
Follow @PFRumors