After the Eagles traded Carson Wentz earlier this week, we heard that the team was not expected to turn the reins over to Jalen Hurts without having him earn the job. Zach Berman of The Athletic confirms that Philadelphia is likely to sign a free agent passer, and Tim McManus of ESPN.com says he expects the team to seriously consider drafting a QB with the No. 6 overall pick.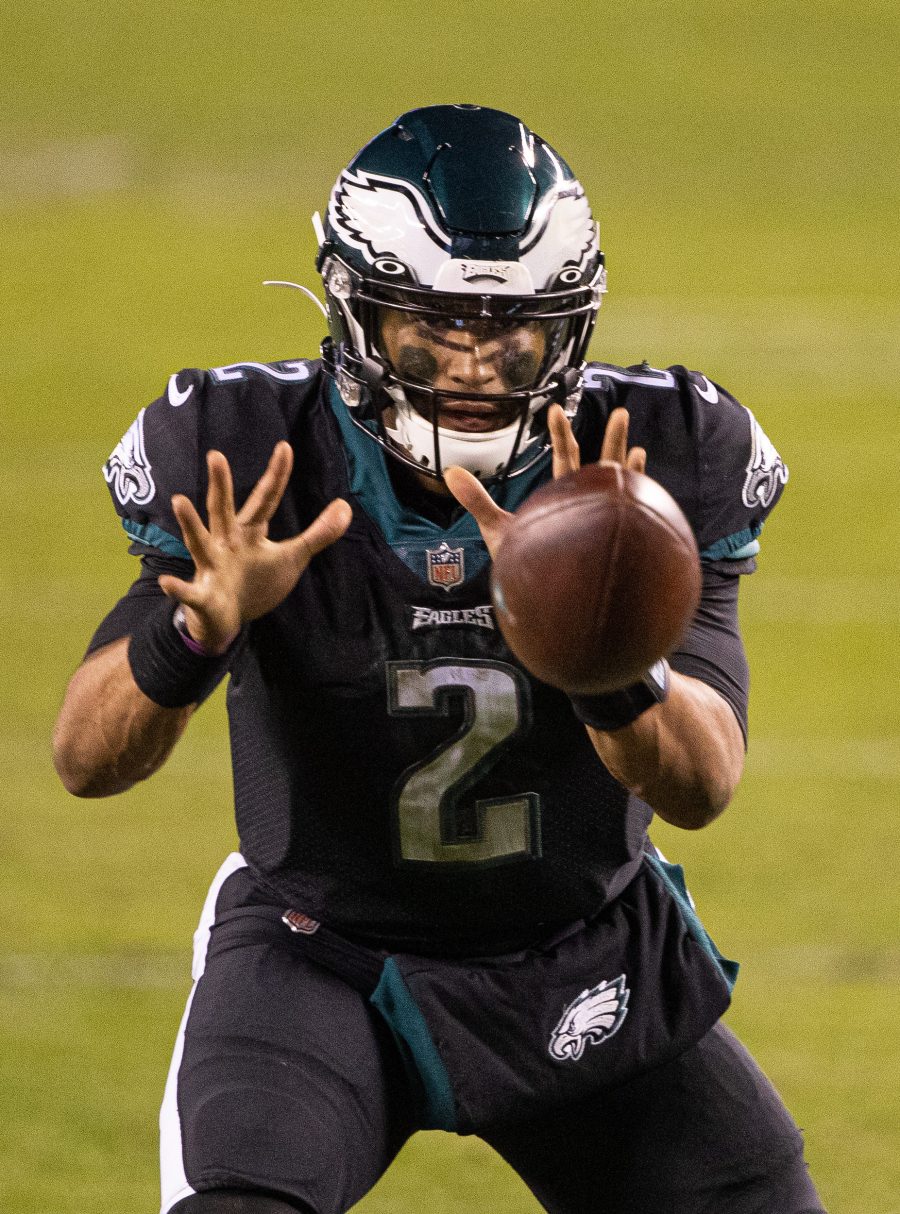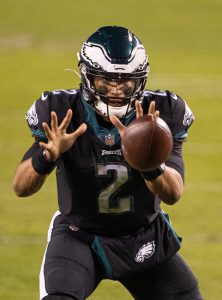 According to McManus, there were mixed opinions of Hurts within the organization in the runup to last year's draft. While owner Jeffrey Lurie and GM Howie Roseman were among his advocates, the club did not necessarily select Hurts with the idea that he would become the team's long-term answer at quarterback. Rather, the Eagles invest a great deal of draft and financial capital into the quarterback position as a matter of course, and Hurts simply represented a good value when Philly was on the clock in the second round of the 2020 draft.
In his four-game audition last year, Hurts certainly did enough to suggest that he can, in fact, be a franchise quarterback, but there were some concerns as well. For instance, his 52% completion percentage was lowest among all QBs that attempted at least 100 passes, and he ranked 27th among 41 quarterbacks with at least 150 passing plays in Expected Points Added (EPA) per play, according to TruMedia. Obviously, the limited sample size makes it impossible to draw any definitive conclusions about Hurts' future, but by the same token, the Eagles — who usually aren't picking as high as they are this year — would be remiss if they did not take a hard look at the top collegiate passers in the 2021 draft.
Trevor Lawrence will be selected by the Jaguars with the No. 1 overall pick, but after that, it's impossible to predict how the quarterback dominos will fall. The Eagles might have a shot at one of BYU's Zach Wilson, Ohio State's Justin Fields, or North Dakota State's Trey Lance, but all three players could be off the board by the time the sixth pick rolls around. As such, Philadelphia might need to orchestrate a trade-up if they want one of those passers, and given that the club is already in salary cap hell, draft assets are especially valuable this year.
On the other hand, it's not every day that you get a chance to select a premier collegiate quarterback, so if Roseman & Co. feel strongly enough about a player like Wilson, Fields, or Lance, they might have to bite the bullet. The Eagles' salary cap picture should look much rosier in 2022, and at that point, they could have two promising young QBs playing under rookie contracts, which would be an enviable scenario.
As for the free agent quarterbacks that could be brought in, Berman names Jacoby Brissett, Tyrod Taylor, and Andy Dalton as potential targets. There are no concrete reports linking those players to Philadelphia at this point, but even if the Eagles draft a quarterback, they still might offer the clearest path to playing time for a passer in that free agent tier.
If the Eagles do not elect to draft a QB with the No. 6 selection, Eliot Shorr-Parks of 94 WIP sees the team picking an offensive or defensive lineman (Twitter link).
Photo courtesy of USA Today Sports Images.
Follow @PFRumors