The Packers have been listed as a potential suitor for J.J. Watt, but at least one reporter is skeptical of the connection. Tom Silverstein of the Milwaukee Journal Sentinel tweets that the Packers "are not going to sign Watt."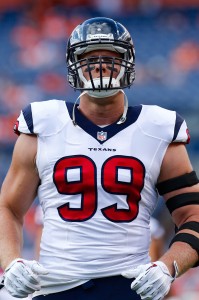 Silverstein specifically cites the team's financial situation, noting that the organization has several of their own free agents who they need to re-sign. "Unless the market somehow collapses," Silverstein believes the Packers wouldn't be able to match Watt's ultimate price tag.
The Packers have been mentioned as a potential match for Watt since November, long before he was cut by the Texans last week. Since he hit free agency, we've heard both pundits and bookies point to Green Bay as a landing spot, and SI's Bill Huber definitively stated that the Packers "are one of the teams interested" in Watt. ESPN's Ed Werder also tweeted this week that Watt's "most important consideration" in choosing his next team (and winning a Super Bowl) was quarterback, making the Packers and Aaron Rodgers a natural fit. And, to top it all off, Watt is from Pewaukee, Wisconsin and attended the University of Wisconsin–Madison.
While the Packers may not be a realistic suitor for Watt, the three-time Defensive Player of the Year isn't struggling to find his next gig. The Bills, Browns, Titans, and Steelers have all been linked to the 31-year-old over the past week-plus.
While Watt's getting up there in age, there are still some signs of encouragement. Sure, he finished with five sacks, his lowest total in a 16-game campaign … but the fact that he managed to appear in 16 games (for the second time in three seasons, no less) is encouraging on its own. He also graded as Pro Football Focus' No. 7 overall edge defender in 2020, with the advanced metrics site praising the veteran's work against the run and pass.
Photo courtesy of USA Today Sports Images.
Follow @PFRumors