C.J. Beathard's new Jaguars deal includes $2.75MM in guaranteed money, as NFL.com's Ian Rapoport tweets. As Rapoport notes, it's a strong indicator that the quarterback will make the Jaguars' final 53-man cut. By the same token, it's a sign that one-time rising star Gardner Minshew won't be on the roster.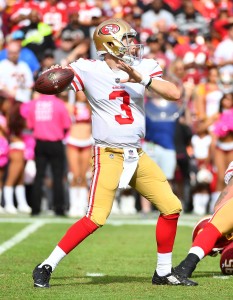 Of course, the Jaguars are expected to draft Trevor Lawrence with the No. 1 overall pick. Up until the Beathard signing, there was at least a chance of Minshew staying on board as the bridge/QB2 for the Clemson star. That spot now seems reserved for Beathard, so the Jaguars will probably start taking those Minshew trade inquiries seriously. Just last week, head coach Urban Meyer said that he wasn't looking to move the Washington State product.
"At this point, no," Meyer said. "At this point, I know Gardner a little bit. He came in yesterday. We had a good visit. That's the second time I've spent time with him. This is all kind of new to me. I'm used to spending about five, six hours a day with our quarterbacks — that's January, February, to get your quarterback ready to go, and you can't do that in the NFL."
Despite 2020's struggles, Minshew is just one year removed from setting franchise records in yards (3,271) and touchdowns (21) for rookie QBs. He's still on that rookie deal, so any team acquiring him would have him at bargain-basement salaries of $850K and $965K.
Photo courtesy of USA Today Sports Images.
Follow @PFRumors