While much of the offseason focus for the Bengals will revolve around upgrading the team's offensive line, they have an important piece of business to take care of with one of their best defenders. Safety Jessie Bates is a pending unrestricted free agent, though Jay Morrison of The Athletic writes that other teams shouldn't be counting on him reaching the open market.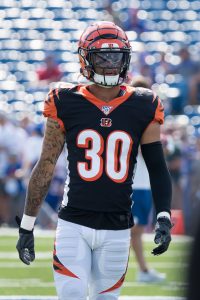 Bates, 24, will see his rookie contract expire next month, which would make him a free agent. However, as Morrison states, "that will not happen". The Bengals' options are to sign him to a long-term deal or, at a minimum, apply the franchise tag to keep him on the team through 2022 and buy time to negotiate a new pact. If Bates were to play on the tag, it would come with a value of around $13MM.
Things didn't go smoothly last offseason when the former second rounder wanted a big contract. Talks between the sides stalled, leaving both sides where they are now. Before the 2021 season started, Bates said, "I guess I haven't done enough yet to be considered one of the top safeties in the league, which is fine". His play leading up to that point certainly warranted consideration that he could reset the safety market, as he registered at least 100 tackles and exactly three interceptions in each of his first three campaigns.
Bates had a down year in 2021 compared to the standards he had set previously. In 15 games, he totalled 88 tackles, one interception and four passes defensed . More worryingly, he gave up a career-worst 122 passer rating in coverage, which contributed to a 56.2 PFF grade – a stark contrast to the position-leading grade he received in 2020. On the other hand, he did record six pass breakups and two interceptions (including one in the Super Bowl) during the Bengals' playoff run.
Newly-extended head coach Zac Taylor expressed a desire to keep Bates in the fold, saying in part, "he's a big part of what we do. We're really proud of how he's led this team and how he's played for us, really over the last four years… I think everyone knows we want Jessie to be a part of this". If the two sides are able to hammer out a new deal, one of the biggest pieces to the Bengals' roster would be in place to help keep the team in Super Bowl contention.
Follow @PFRumors