When it comes to his next contract, Lamar Jackson and the Ravens still have a ways to go. However, even though negotiations haven't gained much momentum, the quarterback says that he remains committed to the only pro team he's ever known.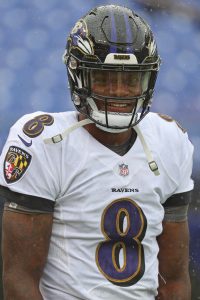 [RELATED: Ravens Extend Head Coach John Harbaugh]
"I love my Ravens," Jackson tweeted on Wednesday. "I don't know who the hell putting that false narrative out that I'm having thoughts about leaving stop tryna read my mind."
Unlike other elite QBs, Jackson hasn't been super aggressive in pushing for an extension. That's why owner Steve Bisciotti isn't so sure that Jackson will ink an extension between now and the fall.
"Unless he has a change of heart and calls Eric and says I'm ready. But it's like, Eric can't keep calling him and say, 'Hey Lamar, you really need to get in here and get this thing done,'" Bisciotti said recently.
Jackson's latest comments are consistent with what he's said all along — he wants to stay in Baltimore and build towards a Super Bowl ring. The Ravens, meanwhile, could look towards the franchise tag to cuff him beyond his fifth year.
"Kirk Cousins did it that way. What if Lamar says that? I'll play on the fifth-year, I'll play on the franchise, I'll play on another franchise and then you can sign me," Bisciotti said. "That might be the case, but I don't talk to Lamar. It's not my role. I don't know the answer."
Cousins turned his prolonged drama with the Commanders into multiple franchise tagged season followed by record-breaking guarantees with the Vikings. If Jackson were to go that route (and perform as a top-tier QB) he could net an unprecedented fortune now that Deshaun Watson has signed a $230MM fully guaranteed contract.
Follow @PFRumors