We learned in January that longtime Steelers GM Kevin Colbert would be stepping down at the conclusion of the 2022 draft. The draft wrapped up yesterday, and Colbert is indeed following through on his plan to leave his post at the top of Pittsburgh's front office.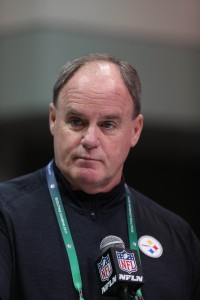 In his final postdraft press conference, Colbert, 65, struggled to contain his emotions. "I'm proud to say we added to that [trophy] room," he said (via Mike Florio of Pro Football Talk). "It was four trophies. There was four when we got here. And you knew the task. You think about DMR [the late Dan Rooney] and being able to add to that room means a ton. It doesn't mean it's over. The next step, I mean we gotta get more than, and we'll never lose that. But it means a lot."
The four trophies that Colbert referenced grew to six under his watch. The Pittsburgh native, who became the Steelers' director of football operations in 2000 before assuming the general manager title in 2010, oversaw two Super Bowl titles with two different coaches, along with a third Super Bowl appearance. In all of that time, the Steelers only had one losing season, which came way back in 2003 (one year before quarterback Ben Roethlisberger was drafted).
Colbert had repeatedly stated that he would remain in his role as long as Roethlisberger was under center, and with Roethlisberger officially hanging up the cleats at the end of the 2021 season, the Steelers are moving into a very different era. One of Colbert's parting gifts, though, is University of Pittsburgh passer Kenny Pickett, the only quarterback selected in the first round of this year's draft and Roethlisberger's heir apparent. The hope is that, even with Colbert no longer operating as GM, Pickett will help carry on his legacy and keep the Steelers entrenched as one of the most successful franchises in the league.
Per a separate tweet from PFT, Colbert is expected to remain with the club in a reduced capacity. He indicated at his press conference that he did not want to be a hindrance to his successor, but his presence will certainly make for an easier transition. The club has undertaken an exhaustive interview process for Colbert's replacement, with 16 reported interviews as of the time of this writing. The list of candidates includes former GMs Jerry Reese, Rick Spielman, and Doug Whaley, as well as top in-house option Omar Khan, the current vice president of football and business administration.
Follow @PFRumors