Steelers GM Kevin Colbert has been working, by his own request, on a series of year-to-year contracts in order to leave open the possibility of retirement. After 22 years in the Pittsburgh front office, that day may have finally come, as Ian Rapoport and Tom Pelissero of NFL.com report that Colbert will step down after the 2022 draft.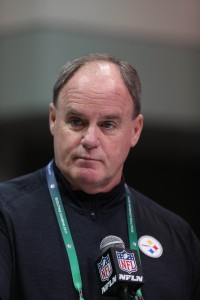 As Aditi Kinkhabwala of the NFL Network reminds us (via Twitter), Colbert has repeatedly stated that he would remain in his post as long as Ben Roethlisberger was the Steelers' quarterback. Roethlisberger is set to retire at season's end, so Colbert is staying true to his word. He may stay with the organization in an advisory capacity to assist whomever the Steelers hire to replace him, but the 65-year-old is expected to retire sooner rather than later.
He will leave behind an extraordinary legacy. Colbert, who became Pittsburgh's director of football operations in 2000 before assuming the general manager title in 2010, has compiled a 225-124-3 record during his time in charge of the club's personnel. That includes two Super Bowl titles with two different coaches, along with a third Super Bowl appearance.
In all of that time, the Steelers only had one losing season, which came way back in 2003. Following the arrival of Roethlisberger one year later, Pittsburgh has been a model of consistency, and the fact that the storied franchise remains one of the NFL's most respected and has served as a template that other teams try to emulate is thanks in no small part to Colbert's efforts.
Vice president of football and business administration, Omar Khan, would appear to be on the short list of potential replacements. Khan has been with the Steelers almost as long as Colbert, having been hired as the football administration coordinator in 2001. He has been a popular GM candidate for other teams in recent years, and he was reportedly offered the Texans' GM gig last year before Houston pivoted to Nick Caserio.
Rapoport and Pelissero also name pro scouting coordinator Brandon Hunt as a candidate.
Follow @PFRumors