The deadline for franchise players to sign multiyear contracts is less than a week away, and it doesn't sound like a resolution is coming between the Bengals and safety Jessie Bates. According to NFL Network's Mike Garafolo (and passed along by Grant Gordon of NFL.com), a positive outcome between the two sides "appears bleak at the moment."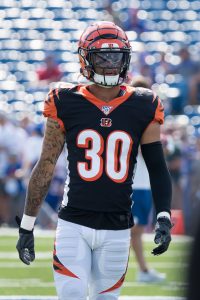 Garafolo can't envision Bates attending Bengals training camp without a new deal. The safety was also absent during OTAs as the two sides tried to hammer out a deal, but back in May, we heard that negotiations had stalled. Bates was slapped with the franchise tag earlier this offseason, locking him in to a $12.9MM salary for the 2022 campaign. However, the safety made it clear that he has no intention of playing the upcoming season under the franchise tag as he pursues a long-term, top-of-market deal.
As Joel Corry of CBS Sports writes, there's a good chance that the Bengals are citing Marcus Williams' $14MM AAV that he got from the Ravens via a five-year deal this offseason. However, Bates' camp is likely pursuing a deal closer to Jamal Adams' contract with the Seahawks, which averages $17.5MM per year and could be worth up to $18MM per year. There's also Minkah Fitzpatrick's deal with the Steelers that exceeded that $18MM AAV mark but is only half guaranteed. Garafolo opines that the Bengals will be unwilling to pay that much for their safety, meaning there's at least a $4MM or $5MM annual difference in opinions.
The 25-year-old was the subject of contract talks last offseason, but negotiations stalled. Bates had established himself as an integral part of the Bengals' defense to that point, earning second-team All-Pro honors in 2020. The regular season this past year was his worst statistically, though he notched a pair of interceptions during the team's run to the Super Bowl.
Follow @PFRumors