Linebacker Frankie Luvu has slowly built his name in the NFL. He's worked his way from special teams back to the defensive side of the ball and, according to Joseph Person of The Athletic, Carolina will look to utilize Luvu as a linebacker on both the inside and the outside next season.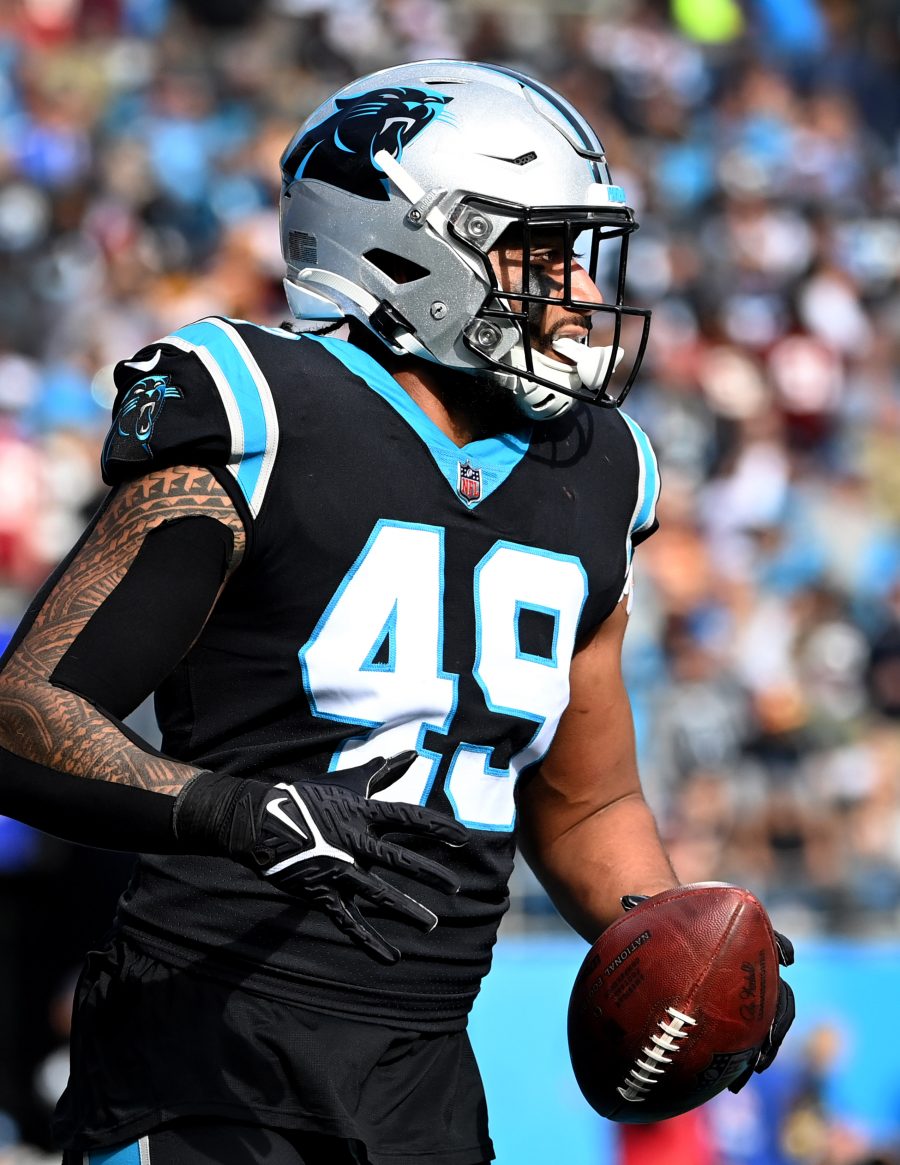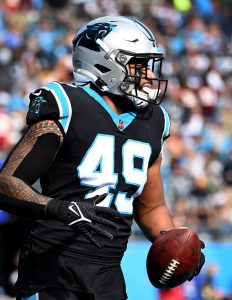 After going undrafted in 2018, Luvu signed with the Jets. He probably sealed his spot on the roster with his special teams play, but Luvu found the field quite a bit as an undrafted rookie. Spending the season as a backup linebacker, Luvu compiled 22 total tackles, 5.0 tackles for loss, 3.0 sacks, and 11 quarterback hits during his first year in the NFL. Although he was unable to record any stats in Week 17, New York rewarded him with his first career start.
After being relegated to more of a special teams role in his sophomore season, Luvu returned to more of a split role between defense and special teams in his third year, earning three starts following an injury to starter C.J. Mosley. Luvu's stat sheet that year resembled his rookie season more than his second year as he continued to play more on defense.
Luvu's hard work and production despite limited playing time didn't go unnoticed. When he hit free agency that offseason, Panthers general manager Scott Fitterer took a flier on Luvu despite his size lending doubt to where he might fit in defensive coordinator Phil Snow's defense. They decided they liked him as a linebacker and, of course, a core special-teamer.
Luvu spent the season as a backup behind starting linebackers Shaq Thompson, Jermaine Carter, and Haason Reddick, earning most of his snaps on special teams. He did earn four starts throughout the season in four games that either Thompson or Reddick sat out.
Once again, despite the limited playing time, Luvu filled out the stat sheet. During his first year in Carolina, Luvu totaled 43 tackles, 1.5 sacks, 8.0 tackles for loss, five quarterback hits, one pass defensed, one forced fumble, and three fumble recoveries. He even added a blocked punt for good measure.
Thompson, a defensive captain for the Panthers, spoke highly of Luvu, saying, "He's energetic. He's a leader. He's a big part of our defense. He's one you can count on to make a play. He's one you can count on off the field to be there for you."
Carolina rewarded Luvu's production and reliability with his first multi-year contract, a two-year, $9MM deal. Snow also plans on rewarding him with more opportunities in more positions on defense.
"He can create a lot of havoc by sending him in different areas," Snow explained. "That's his biggest asset, but Frankie's made a lot of progress dropping (in coverage)…I think you're gonna see a more all-around linebacker this fall from Frankie."
The Panthers lost starters Carter and Reddick to free agency, but were able to reload with the free agent additions of veteran linebackers Damien Wilson and Cory Littleton. So Luvu will once again back up the starting three, this time composed of Thompson, Wilson, and Littleton, but his increased experience and production, combined with Snow's desire to utilize him all over the field, should provide Luvu with more playing time and opportunities come September.
Follow @PFRumors