3:54pm: The MRI confirmed Patrick suffered a torn ACL, Klis tweets. This news will almost certainly end the veteran pass catcher's season, and it obviously deals a blow to Denver's talented but relatively unproven receiving cast.
Injuries continue to interfere with this group's development. Sutton's 2020 ACL tear came after a Pro Bowl season, while Hamler's 2021 tear came a year after the Broncos took him in the second round. Patrick's comes less than a year after he signed an extension to stay in Denver long-term. His through-2024 deal included $13MM guaranteed at signing and $18.5MM guaranteed for injury.
1:46pm: The Broncos' receiving corps represented one of the drivers for Russell Wilson to waive his no-trade clause to facilitate a move to Denver. The quarterback's first Broncos wideout cast may be incomplete.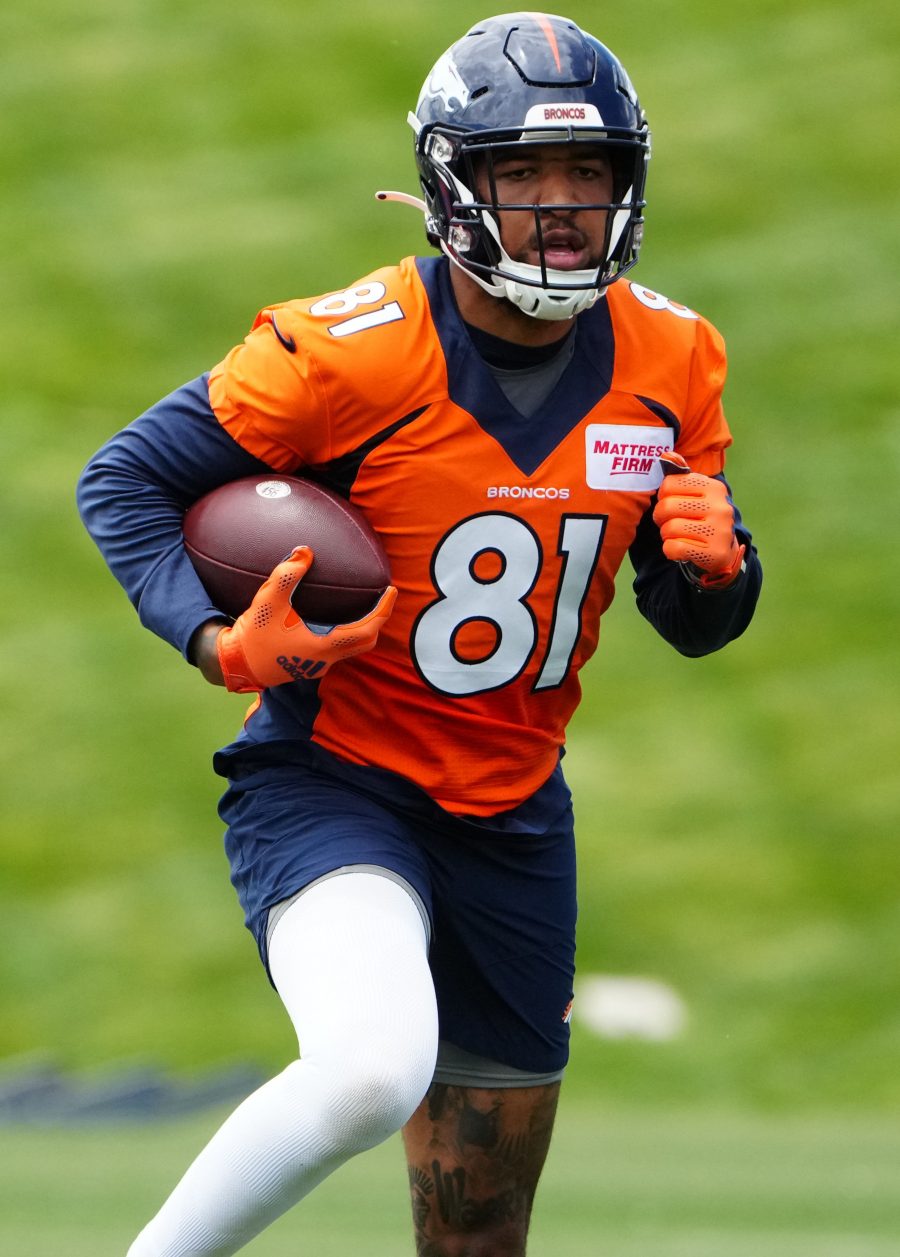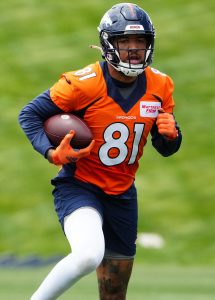 Tim Patrick went down during practice Tuesday, requiring cart transportation, and Denver7's Troy Renck tweets the team fears a serious right knee injury. Bad news is expected, Mike Garafolo of NFL.com tweets.
A former UDFA the Broncos extended last year, Patrick is going through an MRI. Patrick, 29, went down after making an over-the-shoulder catch. The injury occurred as he started running after the reception, 9News' Mike Klis notes (via Twitter).
Denver did well to beat the 2022 receiver market's frenzy, signing both Patrick and Courtland Sutton to extensions — at $10MM per year and $15MM AAV, respectively — and the former has not dealt with the kind of injury trouble that has plagued Sutton and Jerry Jeudy since the Broncos formed their intriguing-but-unproven receiving corps. Patrick did miss some time in 2019 due to a broken hand, but since he became a starter in Denver a year later, the Utah product has only missed two games. One of those came because of a COVID-19 contraction last year.
The Broncos moved Patrick into a full-time player in 2020, when Sutton went down with an ACL tear in Week 2. Despite four quarterbacks (technically, three quarterbacks and one non-QB) making starts for the Broncos that season, Patrick totaled 742 receiving yards and six touchdowns. Last season, Jeudy suffered a Week 1 high ankle sprain and K.J. Hamler went down with an ACL tear in Week 3. Patrick posted 734 yards and five TDs, signing his extension midway through the 2021 campaign.
Hamler has returned from his severe knee injury, but Patrick offers security the former Penn State second-round pick has yet to provide. Should the Broncos receive bad news on Patrick, they may be a team to monitor for a veteran wideout — considering Jeudy and Sutton's recent injury histories. The team was linked to needing to give up one of its receivers in hypothetical deals for Aaron Rodgers, but Noah Fant was the pass catcher included in the Wilson swap. The Broncos have Kendall Hinton — their emergency QB in 2020 — along with 2021 sixth-round pick Seth Williams and ex-Eagle Travis Fulgham on their roster behind their top four receivers.
Follow @PFRumors