The onset of training camps has brought about another wave of veterans signing new deals, or at least meeting with prospective teams in the hopes of landing a contract. Odell Beckham Jr. is still unlikely to be included in either scenario in the immediate future, but the free agent remains a name worth watching.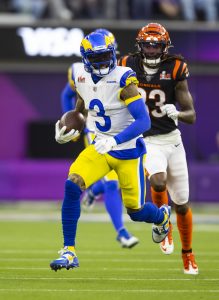 Multiple NFC teams have expressed interest in signing the 29-year-old in recent months, and NFL Network's Ian Rapoport reports that he could still have a number of suitors (video link). The Buccaneers expressed interest before signing Julio Jones, and Rapoport "expects" the Packers to still be included among the teams willing to sign him, given the lack of proven options in their re-worked receiving corps.
The landing spot Beckham remains most connected to, though, is Los Angeles. Rapoport adds that the Rams "still have maintained interest" in a reunion as the offseason has progressed. His level of play after joining the team midseason – 593 yards and seven touchdowns in 12 total games – led to the team expressing optimism about a deal being finalized this offseason. The three-time Pro Bowler has reciprocated that desire, but is still not expected to sign with anyone soon.
As he continues to recover from the torn ACL he suffered in the Super Bowl, Beckham won't be available to play for several weeks to begin the season. That timeframe allows him to approach free agency without the urgency of healthy players, leaving open the possibility that he remains a free agent well into the campaign. On that point, Rapoport adds that nothing is considered "imminent" with respect to a contract being signed this summer.
The Rams still have Cooper Kupp at the top of their WR depth chart, and added Allen Robinson in free agency. The loss of Robert Woods leaves a starting spot available, though, and with over $8MM available in cap space, the team could afford a modest deal for Beckham. As the pool of available free agents continues to shrink, it will be interesting to watch how his market develops over time.
Follow @PFRumors