The Rams continue to be the team most closely connected to Odell Beckham Jr., but a deal does not appear imminent. Both OBJ's side and the team seem willing to wait, which makes sense due to the talented wide receiver's ACL recovery timetable.
Rams COO Kevin Demoff said a lack of urgency exists for both the team and the player, though the longtime team exec confirmed what Sean McVay and Les Snead have this offseason: the team wants Beckham back.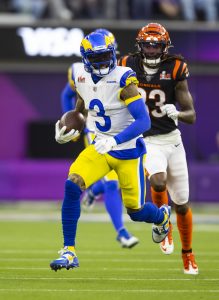 "With Odell, I think, given the rehab [and] the timeline of coming back probably mid-to-later in the year, I just think that the sense of urgency both from his side and probably from our side — and maybe other teams — is not right there, for him," Demoff said, via The Athletic's Jourdan Rodrigue (subscription required).
"… Both sides have had open dialogue, both sides [are] respectful, excited and couldn't be more grateful for what Odell did for our team last year — and the chance to meet him and watch him flourish in L.A."
It is safe to say the ACL tear Beckham suffered during the second quarter of Super Bowl LVI derailed his hopes of landing a lucrative deal this offseason. For a player who has dealt with injuries for much of the past five years, the Super Bowl represented a bittersweet event. Barely a month later, the Rams gave Allen Robinson a three-year, $45MM deal. And they now have Cooper Kupp tied to the most guaranteed money ($75MM) of any wideout. Beyond Browns rumors, which may be dying down, not much has developed on the OBJ front in recent weeks.
Still, Rams bigwigs have consistently spoken about the hope of a second Beckham contract — even after the top-market deals for Kupp and Aaron Donald. The team gained $3MM-plus in cap space from the Donald and Kupp deals; it currently sits with $7.6MM in room.
"If we didn't have a salary cap, we could've signed Odell months ago and would've loved to," Demoff said. "Is it a multiyear deal? Is it a one-year deal? All kinds of variables that come into Odell. The one variable that hasn't changed is how much we love him and want him to be there. I think he's expressed, over social, his desire to be here.
"Am I optimistic we can get a deal done over time? Yes."
The lack of urgency comes into play regarding Beckham's window to return to action. While the 29-year-old pass catcher will not be ready to start the regular season, pointing to a possible PUP-list stay (if OBJ is rostered to start the season), Rodrigue notes it might be longer before he suits up. Beckham's rehab timetable may point to a late-November return, based on where he was in his rehab earlier this offseason. If his current free agency run comes down to one-year offers, being out until the regular season's second half is quite relevant.
A multiyear deal — coming from a team that believes Beckham can return at or close to the form he showed down the stretch for the Rams — could benefit said team, tying Beckham down through 2023 or beyond. That would represent a somewhat risky pact, given Beckham's two ACL tears since November 2020, but it would double as a buy-low opportunity. That said, Beckham might want to ink a 2022-only accord in an effort to make a non-injury-marred run at a lucrative contract in free agency next year.
Follow @PFRumors