And like that, the Rams have extended another star player. Wide receiver Cooper Kupp has signed a three-year extension with the Rams, reports ESPN's Adam Schefter (via Twitter).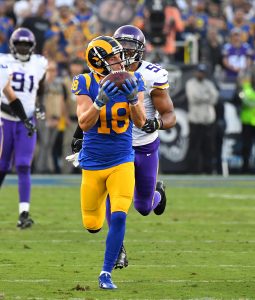 The three-year extension will be added to the remaining two years on Kupp's current deal, locking the Super Bowl MVP into what's essentially a five-year, $110MM deal. That's about $80MM in new money, as NFL Network's Tom Pelissero tweets. Schefter clarifies on Twitter that Kupp will earn a new $75MM in guaranteed money. Earlier this evening, NFL Network's Ian Rapoport estimated that Kupp and the Rams were zeroing on a three-year deal.
Kupp wasn't looking to reset the market with his new deal, and while he earned a handsome pay day, it still doesn't crack the top-five at the position in terms of average annual value. The five-year, $110MM puts Kupp's AAV at $22MM; that ranks sixth at wide receiver behind Tyreek Hill ($30MM/yr), Davante Adams ($28MM), DeAndre Hopkins ($27.25MM), A.J. Brown ($25MM), and Stefon Diggs ($24MM). In terms of total value, the five upcoming years for Kupp is only rivaled by Adams ($140MM) and Hill ($120MM).
Following an incredible 2021 campaign that saw Kupp lead the NFL in receptions (145), receiving yards (1,947), and receiving touchdowns (16) before earning a championship and the Super Bowl MVP, it always seemed inevitable that Kupp would ink a new deal. The team made it clear throughout the offseason that a Kupp extension was a priority, but the team was in no rush to ink the deal with several priorities (including a new contract for Aaron Donald) still unresolved.
Indeed, the organization only inked Donald to a new deal days ago, and they've now completed a new contract for Kupp. In only a matter of days, the Rams have committed $205MM to the two players, and while the front office has done an admirable job of getting creative with their cap machinations, there's no denying the future money the organization has committed to in pursuit of another Super Bowl win. Besides Donald and Kupp, the organization has also handed out a sizable extension to quarterback Matthew Stafford (four years, $160MM) while also signing linebacker Bobby Wagner (five years, $50MM) and wideout Allen Robinson (three years, $46.5MM).
The new deal will keep Kupp in Los Angeles through the 2026 season. This is already Kupp's third contract, and as Albert Breer of TheMMQB points out on Twitter, this is a good case study in support of shorter extensions being more beneficial for players. Kupp inked a three-year, $48MM extension with the Rams in 2020. The East Washington product entered the NFL as a third-round pick in in 2017.
Kupp was productive as a rookie, but he missed half of his sophomore campaign. The receiver topped 1,000 receiving yards in 2019, and while he exceeded 1,000 yards from scrimmage in 2020, the numbers were still a step down from the previous campaign. Then, with Stafford joining the Rams, Kupp exploded, achieving the NFL's receiving triple crown. His performance in 2021 earned him a number of accolades, including Offensive Player of the Year and first-team All-Pro.
Follow @PFRumors