Now connected to several teams besides the Rams, Odell Beckham Jr. may be opening the door to joining a fourth NFL team. The free agent wide receiver expressed disappointment with the defending Super Bowl champions' offer.
Responding to a Twitter post, the eight-year veteran said the Rams sent "the lowest of low offers" this year in free agency. In a separate tweet, Beckham said the Rams "know where [he] wanted to be" but noted it might be difficult for him to come back given what the team offered.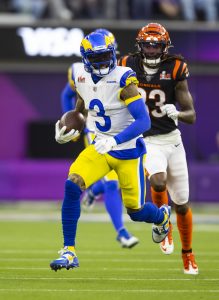 The Rams emerged early as the runaway leaders to sign Beckham, but after the team gave Allen Robinson a three-year, $46.5MM deal, those prospects appeared to dim. But all the notable Rams decision-makers said the team still wanted Beckham back. Even after the Rams gave Cooper Kupp a $26.7MM-per-year extension, Kevin Demoff expressed confidence a reunion would commence. As of now, however, Beckham is unsatisfied with what the Rams are willing to pay to complete that reunion.
Although Von Miller continues to drive (circle?) the Beckham-to-Buffalo wagon, the Bills may not be as interested. Categorizing the Beckham-Bills prospect as "smoke," The Athletic's Tim Graham notes the team may not be a serious player here. While Graham notes the Bills will inquire, it does not seem like the AFC East favorites are the Beckham frontrunners. The Bills lost Jamison Crowder (fractured ankle) but have since seen Isaiah McKenzie clear concussion protocol. The Bills have also seen early returns on their fifth-round Khalil Shakir investment. Josh Allen's chemistry with his current crop plays into the unlikelihood a Beckham deal will take place, Jeremy Fowler of ESPN.com adds.
Miller also connected Beckham to the Buccaneers and Saints, and a subsequent report mentioned the Chiefs and Packers as interested parties. A few of these teams were in on Beckham last year, but the Rams came in late in the process and convinced him to join what turned out to be a Super Bowl-caliber roster. Weeks away from his 30th birthday, the three-time Pro Bowler looms as the top free agent available and a player who could move the needle during this season's Super Bowl pursuit.
Eager to separate from a Browns situation that proved ill-fitting, Beckham maneuvered his way out of Cleveland and the Giants-constructed five-year, $90MM contract. The Rams won the high-profile midseason pursuit with just a one-year, $1.25MM sum (featuring a collected $3MM incentive package) for a half-season of work. Beckham, who topped 100 yards in the NFC championship game and scored a touchdown in Super Bowl LVI, saw his latest ACL tear hijack his 2022 market. The standout receiver would have been one of this year's top free agents; instead, he has been rehabbing on his own while waiting for a worthwhile offer.
Beckham is believed to be on track to return at some point in November, which would explain the increased buzz regarding potential landing spots. Eight months after his injury — the marquee performer's second ACL tear in a 15-month span — Beckham has been cleared for noncontact work. That said, The Athletic's Jourdan Rodrigue adds December may be a more realistic timetable for a return to game action.
As for the Rams, Robinson's struggles (12 receptions, 107 yards) may prompt them to increase their offer. Other teams' interest will naturally affect how Los Angeles plays this as well. Sean McVay has consistently said he would like OBJ back, and his offense has a bigger need at receiver than it did when the team courted him last year. Beckham interest remains, per Rodrigue, who adds a multiyear deal featuring incentives and team flexibility would likely be the play. Would Beckham be willing to tie himself to such a contract now rather than attempting to display health and parlay that form into a 2023 free agency deal?
Follow @PFRumors