The Texans finished with one first-half first down in Sunday's one-sided loss to the Commanders, and a week after Lovie Smith indicated it was not time to consider making a quarterback change, the rebuilding team seems to be changing its tune.
Houston is considering benching Davis Mills for veteran Kyle Allen, Aaron Wilson of KPRC2 reports. Mills has operated as the Texans' starter since late last season, when he replaced Tyrod Taylor. But after a game in which the Texans totaled five first-half yards, Smith may be ready to try something else. Mills and Allen are the only two quarterbacks on the Texans' 53-man roster.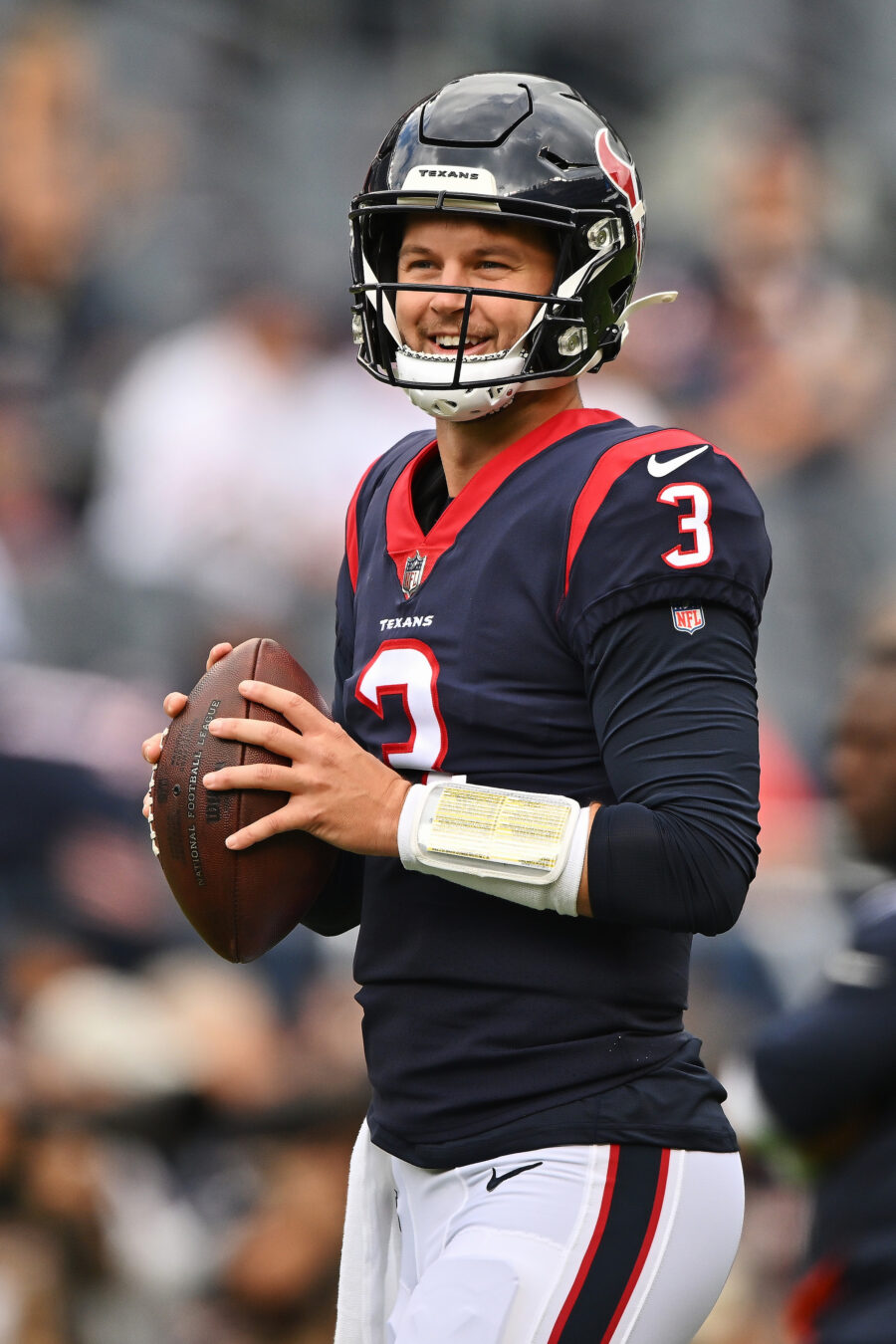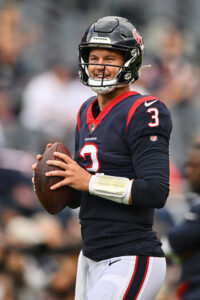 "Have I watched the video a few different times? Yeah, and made some decisions on how we're going to go forward," Smith said Monday. "But you can probably understand, with all changes and anything that we do from week to week, we talk to the players first before we talk to you. We're not pleased with where we are. Do we need to do some things differently? Yes, and we will."
A third-round pick in 2021, Mills posted a better rookie-year QBR than draft classmates Trevor Lawrence, Justin Fields or Zach Wilson. Despite the Texans having Laremy Tunsil back and having drafted guard Kenyon Green in Round 1, Mills has not built off his strong finish to last season. The Stanford alum ranks 30th in QBR and leads the league with 11 interceptions. Admittedly saddled with an unspectacular pass-catching corps, Mills has not completed more than 60% of his passes in a game since Week 7.
Allen signed a one-year, $2.5MM deal to back up Mills this offseason. Houston was linked to signal-callers in this draft, which seemingly would have dropped Allen to a third-string role, but the franchise passed on adding a young arm. This opened the door to a full-fledged Mills audition. Ten games in, the Texans may have seen enough.
A former UDFA who finished his college career at the University of Houston, Allen has a fairly extensive sample size as a pro starter. With Carolina and Washington, Allen has appeared in 21 games and made 17 starts. He has completed just more than 63% of his passes (6.9 yards per attempt). The 6-foot-3 QB led the 2019 Panthers to five wins, following Cam Newton's early-season foot injury, but suffered a severe ankle injury midway through the 2020 season with Washington. Allen, 26, has thrown just 19 regular-season passes since that injury.
The Texans benching Mills would seemingly signal the team is prepared to make a true post-Deshaun Watson quarterback investment. At 1-8-1, Houston is steamrolling toward the 2023 No. 1 overall pick. No other NFL team has fewer than three wins. The Texans could also have a second top-10 pick — via the 2023 first-rounder obtained from the Browns (3-7) — to use as trade-up ammo if they wish to go with a "best player available" approach with their own first-rounder. Heisman winner Bryce Young, Ohio State standout C.J. Stroud and Kentucky's Will Levis are expected to be the top quarterbacks available in 2023, though these prospects will need to declare for the draft first. ESPN.com's Todd McShay ranks Young, Stroud and Levis as next year's Nos. 2, 3 and 13 draft-eligible QBs. Texans connections figure to emerge over the next few months.
Follow @PFRumors