The Eagles are the 15th team since the 1970 merger to start 13-1. Their September win over the Vikings currently gives them a three-game lead in the NFC's home-field advantage race. This would allow for caution regarding injured players, and Jalen Hurts' status has now come up on this front.
This season's MVP frontrunner suffered a shoulder sprain during the Eagles' win over the Bears on Sunday, according to NFL.com's Ian Rapoport, Tom Pelissero and Mike Garafolo (via Twitter). This is not considered to be an injury that threatens Hurts' playoff status, but the Eagles are preparing for the possibility Gardner Minshew starts against the Cowboys in Week 16 (Twitter link).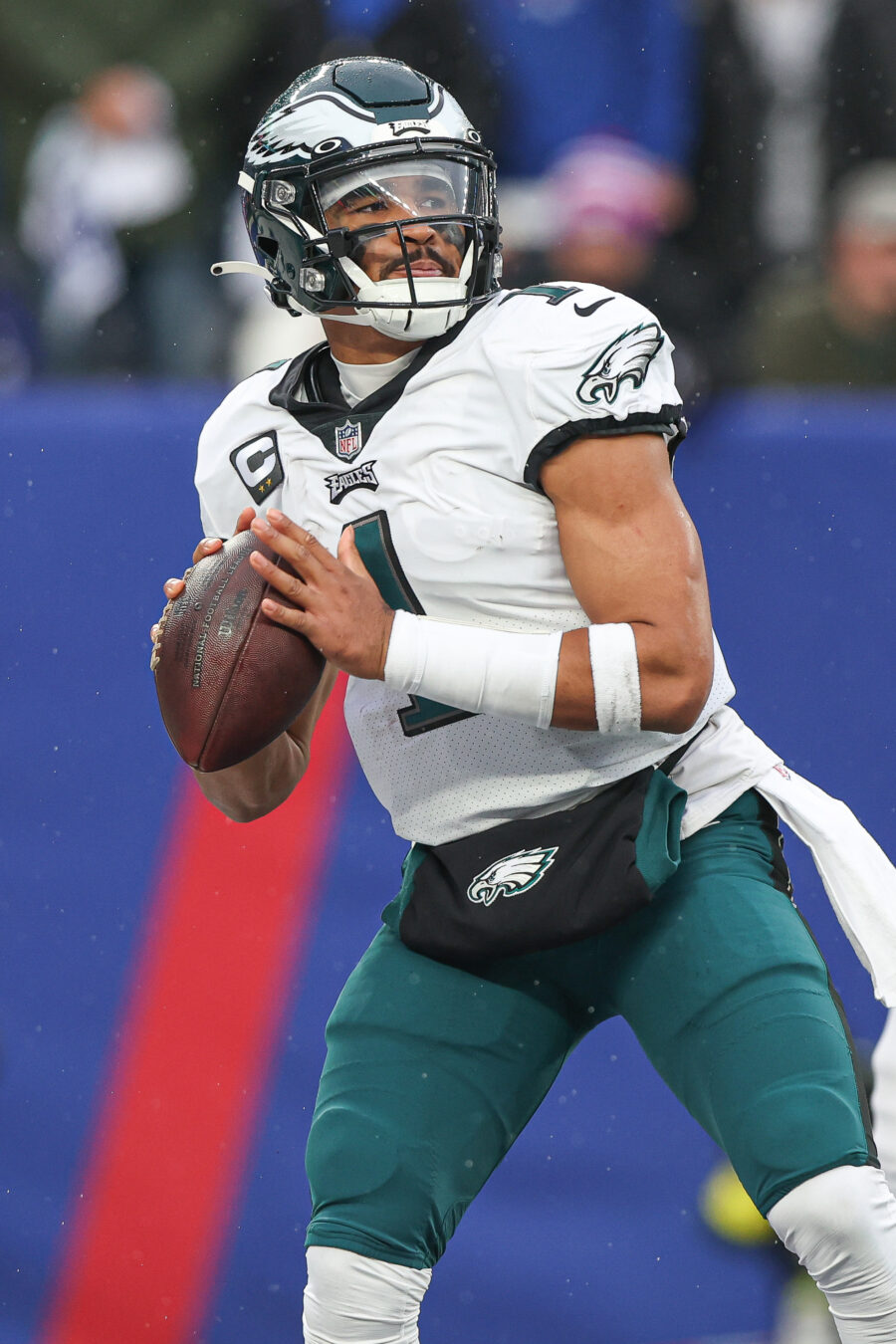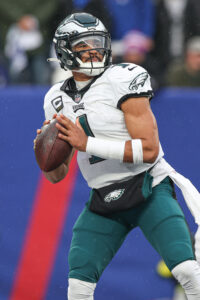 A Hurts return might take a bit longer, given the circumstances. The injury is to Hurts' throwing shoulder, and with the team wanting him at full strength when he comes back, the Philadelphia Inquirer's Jeff McLane adds the third-year quarterback faces the prospect of missing Philadelphia's next two games or being shut down until the playoffs. Were the Eagles to sit the MVP until the postseason, it would likely give him more than a month of recovery time. The divisional round begins Jan. 21.
Hurts suffered the injury on a third-quarter hit from Bears defensive end Trevis Gipson, who tackled the third-year passer on one of his 17 carries — which matched a season-high mark — in Week 15. While Hurts has made considerable strides as a passer this season, his rushing ability is a major part of Philly's offense. The former second-round pick has amassed 747 rushing yards and 13 touchdowns, three of those coming against the Bears on Sunday. Hurts, however, has either been hit or tackled 184 times this season, per ESPN, with that total ranking behind only Justin Fields and Daniel Jones.
Minshew started one game in relief of Hurts last season, filling in after Hurts suffered an ankle injury. The former Jaguars draftee should be viewed as likely to make another start Saturday, McLane adds. Hurts, who was not quite as effective after returning from that injury last year, underwent ankle surgery this offseason. He has removed previous doubt about an ability to be a high-end starting quarterback, and the Eagles have a recent history of securing a No. 1 seed without their starting quarterback. Nick Foles replaced Carson Wentz to land the NFC's top seed five years ago. Wentz was on the cusp of MVP acclaim when he went down with an ACL tear, but Foles ended up lifting the team to a Super Bowl title. It does not appear the Eagles will need to consider Minshew for the playoffs, however, representing obvious good news for the league's only team with fewer than three losses.
The Eagles host the Saints in Week 17, and the Giants will visit Philly to close out the regular season. Minshew went 20 of 25 for 242 yards and two touchdowns in his start against the Jets last season. He also started in Week 18 against the Cowboys, as the Eagles rested starters. After Dallas was forced to start Cooper Rush in its early-season matchup in Philadelphia, it is looking like this high-profile rivalry will not involve a Hurts-Dak Prescott duel this time around either.
Follow @PFRumors