MARCH 24: Pouring water on the potential of an Elliott-to-Philadelphia move, John Clark of NBC Sports tweets that the Eagles have not yet talked with the three-time Pro Bowler about a contract. He adds that the reigning NFC champions are "happy" with their current situation in the backfield. That update illustrates the reality that Elliott's preferred destinations represents a wish list on his part, more so than a shortlist of interested suitors.
MARCH 23: Although the Cowboys moved on from his lucrative contract last week, Ezekiel Elliott looks to have generated some interest elsewhere. He may have a new team before the end of the month.
Elliott wants to have a destination in place by the end of next week, and Adam Schefter of ESPN.com notes the two-time rushing champion has narrowed his choices to the Eagles, Bengals or Jets (Twitter link). It is unclear if each team has offered Elliott a deal, but each has some level of need in the backfield.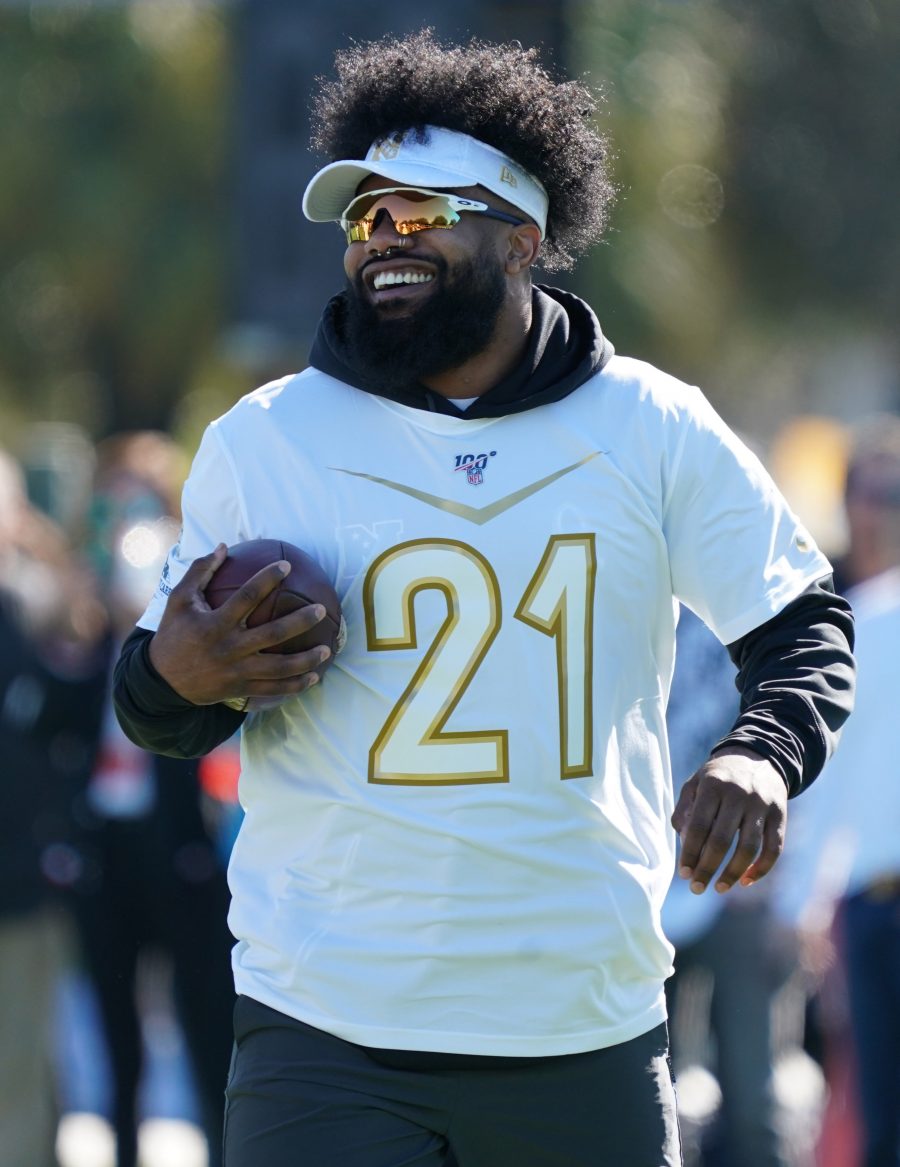 The Bengals have shown interest, Kelsey Conway of the Cincinnati Enquirer tweets. They have already lost Samaje Perine to the Broncos. Perine said (via the Denver Post's Parker Gabriel) he chose Denver because of Sean Payton's history using multiple running backs. Perine also looks to be insurance against Javonte Williams needing in-season time to finish up his ACL recovery.
The Bengals, however, wanted Perine back. They offered their Joe Mixon backup nearly identical terms to what he signed for in Denver, Paul Dehner Jr. of The Athletic notes (subscription required). Perine signed a two-year, $7.5MM deal with the Broncos. The Bengals have also stopped short of guaranteeing Mixon would be back. The seventh-year back's $12MM-AAV extension runs through 2024 and calls for salaries north of $9MM this year and next. Elliott spelling Mixon might not be the plan here, with Conway pointing to this as an either/or situation.
As the Jets prepare to trade for Aaron Rodgers, they are moving aggressively to surround him with talent. Allen Lazard and Mecole Hardman are en route, and the team moved up in the draft by unloading Elijah Moore. The Jets join the Broncos in having their starting running back — Breece Hall — coming off an October ACL tear. The Jets showed interest in ex-Rodgers teammate Jamaal Williams, but the breakthrough Lions back chose the Saints.
Philadelphia, which once signed DeMarco Murray after Dallas let him walk in 2015, has added Rashaad Penny in free agency. That deal is more of a flier, considering the ex-Seahawks first-rounder's injury history, but the Eagles also re-signed longtime backup Boston Scott and roster Kenneth Gainwell. Elliott could be a piece of this equation, but it would be uncharacteristic for Howie Roseman — who was demoted during Chip Kelly's 2015 in power — to splurge for a back. But Elliott moving from the Cowboys to their biggest divisional threat would obviously be a captivating storyline.
Elliott, 27, has seen his snap share drop in each of the past four seasons, with Tony Pollard showcasing himself as the more efficient member of the Cowboys' backfield. With the latter seeing more early-down work, Elliott has seen his role shift to that of a short-yardage specialist; that, coupled with his general decline, helped account for his career-low numbers in 2022 (876 yards at an average of 3.8 per carry). Those figures made it obvious that he would become a cap casualty for Dallas this offseason.
Now, Elliott appears close to the beginning of the second chapter of his NFL career. A deal sending him to any of the three aforementioned teams would likely involve plenty of work on third down given his recent short-yardage history but also his proficiency in pass protection. In any case, a new contract would be far more modest than what he was due on his now former Cowboys accord. The Bengals, unlike the Eagles and Jets, currently reside in the top-10 in the league in cap space, so they could win out a potential bidding war. How much interest each team shows in Elliott will be a key storyline to follow in the secondary waves of free agency.
Adam La Rose contributed to this post.
Follow @PFRumors