Jim Brown, one of football's all-time greats, has died. He was 87. Brown's wife, Monique, announced his passing in an Instagram post Friday.
The Hall of Fame running back dominated his era like no other ball carrier, blazing an unparalleled trail during his career at Syracuse and with the Browns. Brown's wife revealed the legendary figure passed peacefully Thursday at his Los Angeles home.
"To the world he was an activist, actor, and football star," Monique Brown's post stated. "To our family he was a loving and wonderful husband, father, and grandfather. Our hearts are broken..."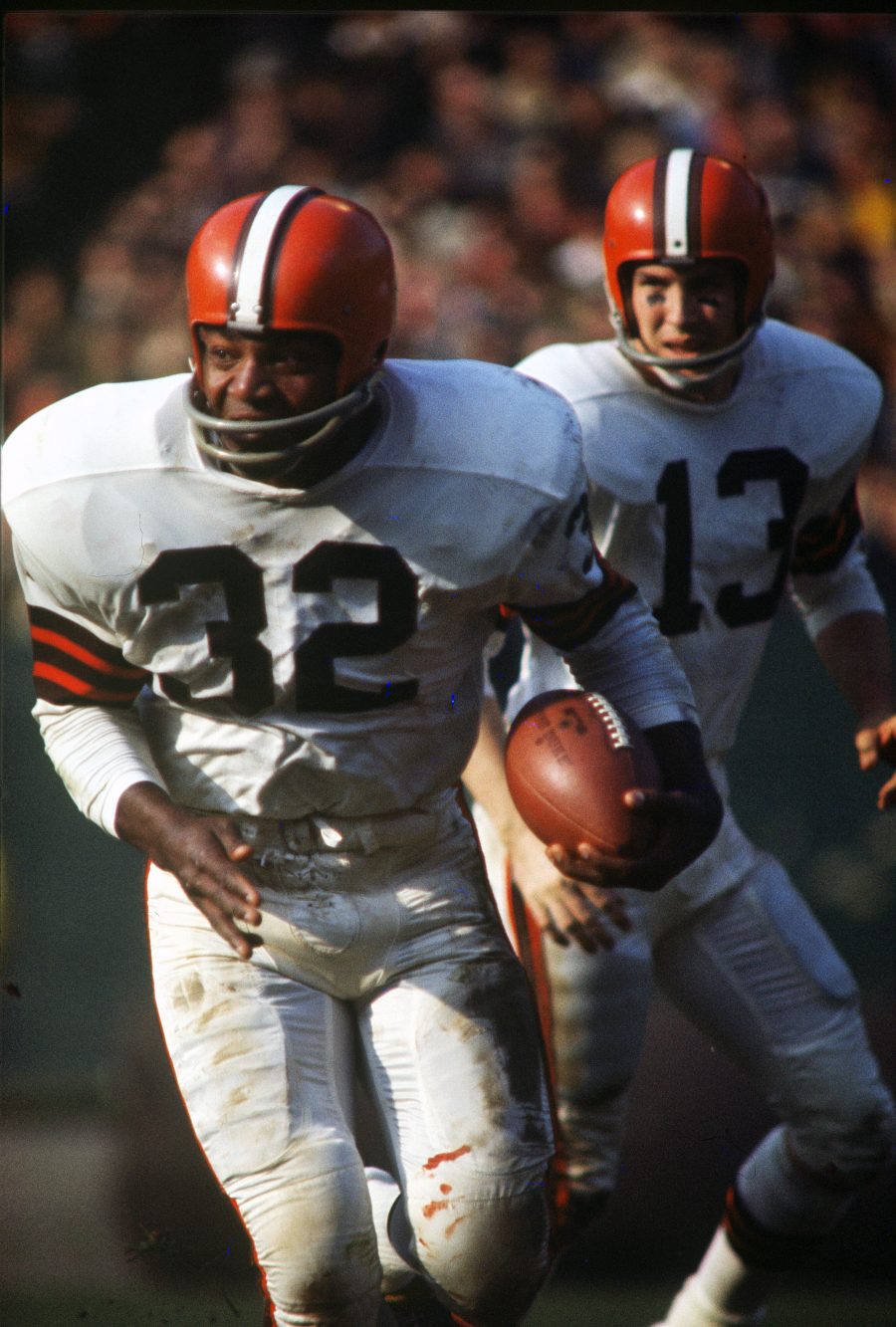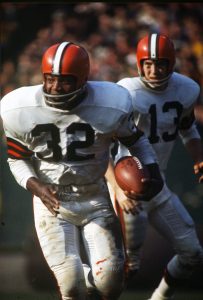 From an NFL perspective, it is difficult to overstate Brown's towering presence. The bruising back played nine seasons; he won eight rushing titles. No one else has more than four. Brown stands as one of the few with a claim to the greatest player in NFL history. A sublime blend of power and speed, the No. 6 overall pick in the 1957 draft held four of the league's top five rushing seasons when he retired after the 1965 campaign.
While Walter Payton broke Brown's career rushing record in 1984, the Cleveland legend retired with a 2,600-yard lead on the field. Brown's three MVP awards place him behind only Peyton Manning and Aaron Rodgers in NFL history. In the Associated Press MVP award's existence (1957-present), Brown is the only non-quarterback to win the honor more than once.
Lettering in football, lacrosse, track and basketball at Syracuse, Jim Brown joined Paul Brown's team which had struggled in its first post-Otto Graham season (1956). Brown ripped off five straight All-Pro seasons, soon teaming with a fellow future Hall of Famer — halfback Bobby Mitchell, who later finished his career as a Washington wide receiver — in Cleveland's offense.
Brown won MVP honors as a rookie, but his second season provided a better statistical illustration of the gap between Cleveland's back and his peers. He amassed a record-breaking 1,527 rushing yards that year; the second-place finisher in that 12-game season totaled 791. The 230-plus-pound back finished with a career-high 1,863 yards in 1963. The Browns' most recent championship came a year later; Brown finished that 1964 finale — a 27-0 shutout over the Colts — with 151 yards from scrimmage. Brown then powered Cleveland to the 1965 NFL championship game — a loss to Green Bay in the last NFL title game during the pre-Super Bowl era — before retiring ahead of the 1966 season. Brown finished his career having never missed a game.
"It's impossible to describe the profound love and and gratitude we feel for having the opportunity to be a small piece of Jim's incredible life and legacy," the Browns said in a statement. "We mourn his passing, but celebrate the indelible light he brought to the world."
An emerging actor by the mid-1960s, Brown had not intended to wrap his career following the 1965 season. But a dispute with owner Art Modell from the set of the movie The Dirty Dozen led to the icon hanging up his cleats just before the '66 campaign. As the film's production ran long, Modell had vowed to fine Brown $100 for every day he was not at training camp. Rather than return to the team, as he had planned to for at least one more season, Brown sent Modell a letter apologizing for the circumstances. In that message, the then-30-year-old back informed the Browns he would retire to devote time to social issues and his movie career. Brown's film and television credits surpassed 50.
While still active as a player, Brown helped found what later became known as the Black Economic Union. That self-help organization for Black athletes became the backdrop for "The Cleveland Summit," which gathered a contingent of socially conscious Black athletes from multiple sports — including Bill Russell and Lew Alcindor (later Kareem Abdul-Jabbar) — to discuss then-heavyweight champion Muhammad Ali's stance against serving in Vietnam.
A celebrated figure, Brown did leave a complicated legacy. He was arrested multiple times on charges of striking women and spent months in jail in 2000 for a refusal to attend counseling after being convicted for vandalizing his wife's car.
On the field, Brown's imprint is unassailable. A 2010 ranking conducted by coaches, players, executives and media members slotted Brown as the second-best player in NFL history — behind only Jerry Rice. ESPN's ranking of the top 150 college football players placed Brown at No. 1. Brown's 126 touchdowns and 12,312 rushing yards now sit 10th and 11th, respectively, on those all-time lists. Brown reached these totals in fewer games than the backs who eclipsed him; he played four seasons in the NFL's 12-game era and his final five when the regular season consisted of 14 games. The nine-year veteran remains the only player to average more than 100 rushing yards per game for his career, topping that list (with 104.3) by nearly five yards.
Follow @PFRumors