After a second allegation of violence against a woman surfaced, Perrion Winfrey is now on the waiver wire. The Browns cut the 2022 draft pick on Wednesday, according to a team announcement.
Winfrey is under investigation for allegedly threatening a woman with a gun Tuesday night in Cleveland, Fox 8 News reports. After Winfrey allegedly did not respond to a woman in a hotel lobby Tuesday night, Fox 8 reports the woman yelled something at the D-lineman. That prompted a threat and brandishing of a gun. Winfrey left the scene before the police arrived. No charges have been filed, but Mary Kay Cabot of cleveland.com reports Winfrey is a suspect in an aggravated robbery attempt.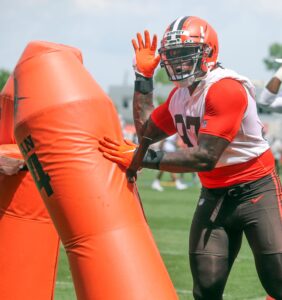 He had worked as a defensive tackle backup as a rookie, playing 342 defensive snaps over 13 games. The Oklahoma product was also arrested in April on a misdemeanor assault charge after he allegedly grabbed a woman he was dating and "unlawfully, intentionally and knowingly" caused her bodily harm. Winfrey, 22, allegedly grabbed Brianna Mack and pulled her with his hand.
The second-year defender's case ended up being dismissed — after the completion of a pretrial conversion program — this summer. After another incident, however, the Browns are moving on. Three years remain on Winfrey's rookie contract.
After making minimal investments at defensive tackle last year, the Browns struggled to defend the run. They now have a new defensive coordinator (Jim Schwartz) and a new D-tackle anchor — in ex-Giants and Vikings cog Dalvin Tomlinson. In addition to Tomlinson's four-year, $57MM deal, the Browns used a third-round pick on a D-tackle, drafting Baylor's Siaki Ika. The team also has fourth-year contributor Jordan Elliott, who started all 17 games at the position last season. Veterans Maurice Hurst and Trysten Hill are also now with the team.
Pro Football Focus rated Winfrey and Elliott as two of the league's worst D-tackle regulars last season, slotting each in the bottom 12 at the position. Browns coaches benched Winfrey at points due to maturity issues. The 6-foot-4 D-lineman was a healthy scratch in multiple games last season. Winfrey also landed in concussion protocol at one point, and part of the absence was related to a scooter accident.
Follow @PFRumors