The Jonathan Taylor drama has quieted down a bit since the start of the season, but by no means does that mean it isn't there. After failing to both 1) reach a long-term agreement with Taylor and 2) find a viable trade partner willing to meet their price for Taylor, the Colts placed him on the physically unable to perform list, where he remains today. After the constant drama and failure to navigate their way out of it, is Indianapolis willing to lower its asking price? ESPN's Stephen Holder thinks so.
The team's relationship with Taylor seems fractured beyond repair. The Colts made it very clear that they were not willing to commit to Taylor long-term. And, if they choose to utilize the franchise tag on Taylor after the season to keep him from hitting free agency, it's hard to see any situation where the relationship is repaired. If they remain uncommitted to signing the former All-Pro to a long-term contract, trading Taylor seems like the best option.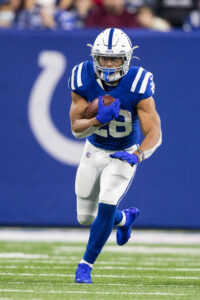 Seemingly, Taylor's pure talent should be enough to convince the Colts to hold on to him for the long-term. Especially considering what they've been working with in his absence. In Week 1, while Zack Moss continued recovering from a broken arm, Indianapolis was forced to turn to a combination of Deon Jackson, Evan Hull, and Jake Funk. The three combined for 25 rushing yards on 16 carries for zero touchdowns and two lost fumbles. Moss made his debut in Week 2, during which he would be the only running back to see snaps on offense, playing 56 of the team's 57 offensive snaps.
This sends a clear message about the team's confidence in its depth at the position. The Colts were completely dependent on Moss with Taylor still out, and while it's nice to be able to depend on Moss and have him deliver, they would likely prefer to have multiple options they can trust. Seeing how little the team feels they can trust their current running backs room, one might think their eyes would be opened to the benefits of signing Taylor long-term. Of course, one might think that a 2021 rushing title and a career 5.1 yards per carry might be enough to open their eyes, but here we are.
So, if the Colts want any return on losing Taylor, they'll need to find a trade partner for the young rusher. Obviously, they need to aim for teams that have the desire and bandwidth to sign Taylor to a long-term deal. Besides that, the asking price has been their biggest concern. The Dolphins and Packers reportedly showed interest in trading for and signing Taylor, but both teams were unable to match the haul that the Indianapolis was requesting. The Packers are also now believed to be out of the running.
Holder reminds that the team's asking price was a package of picks that amounted to a first-rounder, but he also claims that the Colts would be willing to "settle for something a bit less." What exactly that means is yet to be determined as the team will still likely continue to play hardball in an effort to avoid giving him away for pennies on the dollar, but if they're able to lower their expectations, it could open the door for a new team to come in and add Taylor to their stable.
For now, the Colts will hope to see Taylor back on the field after his stint on the PUP list. Past that, there's still hope that cooler heads prevail, and the two sides can come to an agreement, but a lower asking price for Taylor may lead to the 24-year-old's inevitable exit.
Follow @PFRumors