Just as Jonathan Taylor had ramped up to a level reminding of his pre-injury version, the recently extended running back needed another shutdown period. Taylor underwent thumb surgery last week, and the Colts do not appear to be expecting him back too soon.
Although Taylor played through the injury to close out the Colts' Week 12 game, the former rushing champion's issue was serious enough it required an immediate procedure. Taylor suffered a torn UCL in his thumb, according to NFL.com's Ian Rapoport, who details the nature of the setback. The fourth-year back tore the ligament off the thumb's base. The damage also affected a tendon in Taylor's hand, with surgery the only way to correct this issue.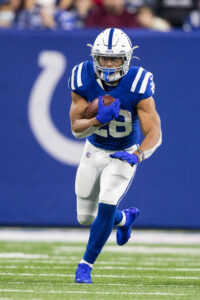 Had Taylor gone in for a standard surgery to address the UCL tear, he would have faced a months-long recovery. Instead, Rapoport adds an internal brace procedure — one that stands to allow a late-season comeback — became the plan of attack. The internal brace procedure, which Drew Brees underwent in 2019, presents Taylor with a three- to five-week recovery timetable. The Colts do not plan to place Taylor on IR while he recovers, which allows him to avoid a mandatory four-game absence.
When Taylor went under the knife in Los Angeles, the Colts hoped to have him back in two or three weeks. The three- to five-week timetable would stand to sideline Taylor in Week 15 as well. While a minimum three-week hiatus may be more damaging to fantasy GMs than the Colts, given Zack Moss' production in extended relief this season, Indianapolis does have two games against fellow AFC playoff contenders — being set to play the Bengals — over the next two weeks.
Taylor, 24, did well to secure guaranteed money when he could, having now experienced ankle and thumb ailments that required surgeries. While the journey to reach that extension led the Colts and their starting running back to a strange place from which an escape once seemed difficult to envision, Taylor signed a three-year, $42MM deal in October — before coming off the reserve/PUP list. The 2021 All-Pro received $19.3MM fully guaranteed, while an additional $7.2MM will come his way in 2024. That additional $7.2MM — part of Taylor's 2025 salary — shifts from an injury guarantee to a full guarantee on Day 5 of the 2024 league year.
Prior to last year's ankle injury, Taylor rolled through his Wisconsin tenure and first two Indianapolis seasons without a notable injury. The Colts acquired Moss in the Nyheim Hines trade last year, and the ex-Bills second-rounder has played exceedingly well in his contract year. While lacking Taylor's top-end skillset, Moss boasts a better yards-per-carry number (4.5) to the Colts' preferred starter (4.1) this season. Moss' 723 rushing yards rank 11th this season.
Taylor's deal will allow him to avoid a 2024 franchise tag or a trip to what could be a crowded free agent market. Moss joins Saquon Barkley, Josh Jacobs, Tony Pollard, Derrick Henry, Austin Ekeler and D'Andre Swift as notable backs in contract years.