Minutes before the franchise tag deadline, the Giants have reached an agreement on a Daniel Jones extension. The sides have a deal in place, Ryan Dunleavy of the New York Post reports (on Twitter).
This should allow the team to use its franchise tag on Saquon Barkley, and NFL.com's Mike Garafolo notes that will happen (Twitter link). Jones agreed to a four-year, $160MM extension, Garafolo and NFL.com's Ian Rapoport report. The sides are finalizing the deal, which Rapoport notes can increase by $35MM via incentives (Twitter link).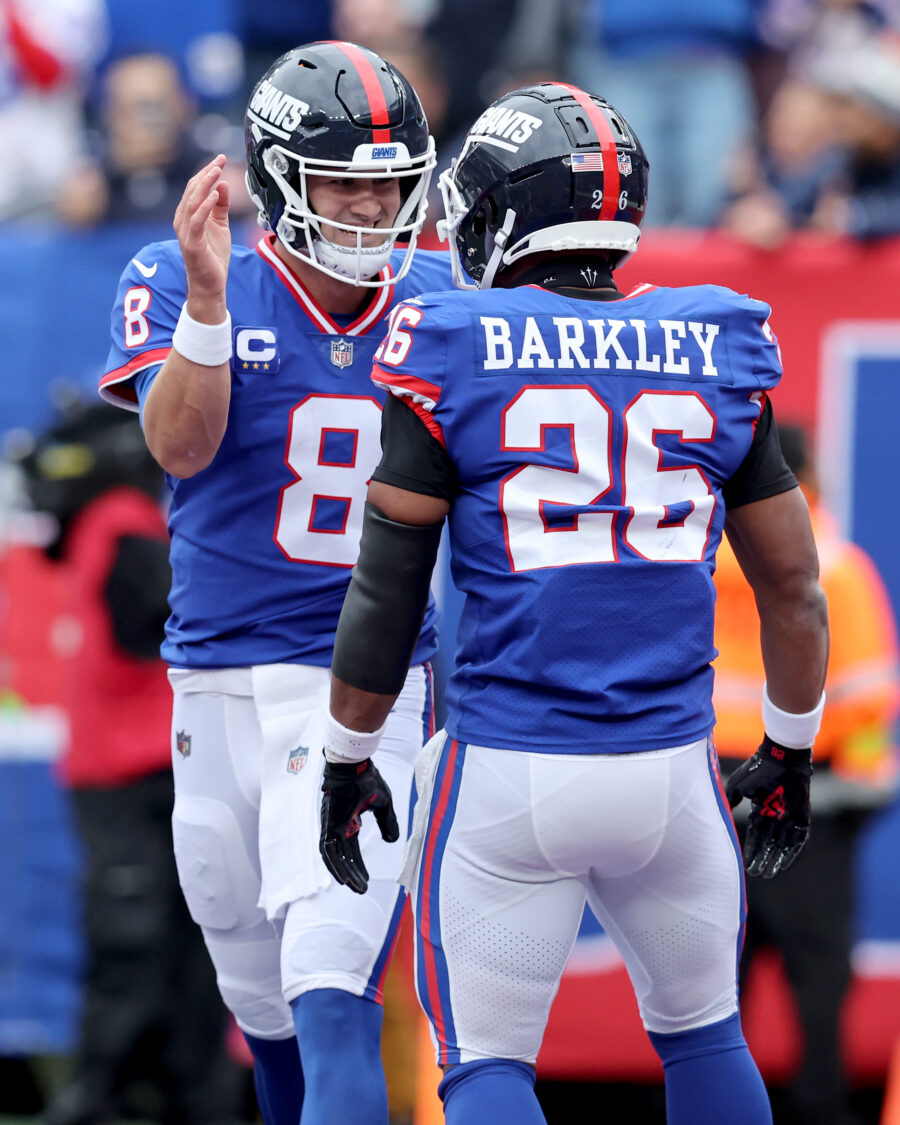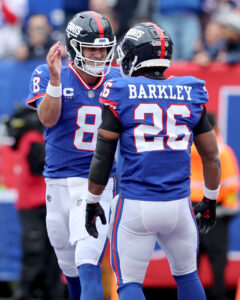 The Giants had until 3pm CT today to avoid a situation in which Jones was tagged — the team's plan absent an extension — and Barkley headed toward the open market. Now, the Giants will have both players back in 2023. Barkley's tag is worth $10.1MM, and he joins Josh Jacobs and Tony Pollard among running backs tagged this year. Jones' extension will make that number easier for the Giants to fit onto their cap. Tagging Jones would have placed a $32.4MM cap hold on New York's payroll.
Jones had the Giants up against a deadline that could have meant losing Barkley, pointing to the former first-round pick doing well on the guarantee front. The 25-year-old quarterback will collect $82MM over the deal's first two years, Tom Pelissero of NFL.com tweets, with SI.com's Albert Breer noting this does cover Jones' guarantees (Twitter link). Four years had been the expectation here, Jeremy Fowler of ESPN.com adds (on Twitter). The Giants are essentially making a two-year bet on Jones ascending.
This represents a staggering financial leap for Jones, who piloted the Giants to the playoffs despite the team's receiver blueprint changing for the worse early in the season. Jones displayed his best work in terms of efficiency, leading the NFL in interception percentage, and used his legs far more than he had over his first three seasons (810 rushing yards between the regular season and playoffs). Still, the Giants greenlighting a $40MM-per-year extension — the deal's structure matches Dak Prescott and Matthew Stafford's accords — for a QB who threw 15 touchdown passes in his contract year is certainly a notable development in recent transaction history.
Prescott and Stafford agreed to their respective four-year, $160MM extensions on lower salary caps; the cap ballooning past $224MM aided Jones and the Giants. Jones, Prescott and Stafford are all tied for seventh in terms of QB AAV. Though, the money coming for Joe Burrow, Justin Herbert and Jalen Hurts — and possibly Lamar Jackson, as that saga is heating up in Year 3 — stands to bump the NFC trio down a bit this offseason. For now, however, Jones has secured top-10 quarterback money less than a year after the Giants passed on a $22.4MM fifth-year option.
The Giants entered their extension talks with Jones hoping the price would not hit $35MM per year, but the tag deadline worked in Jones' favor. As Jones hired new representation, the $45MM-AAV number emerged. That figure floated for multiple weeks, with a report late last week indicating Eli Manning's successor was asking for a deal north of that number. The Giants negotiated with Jones' camp daily at the Combine, and the sides agreed on what could be a nice compromise. Jones will have a chance to work in Brian Daboll's offense for the long haul, and the team is expected to pursue receiver upgrades to help its passer.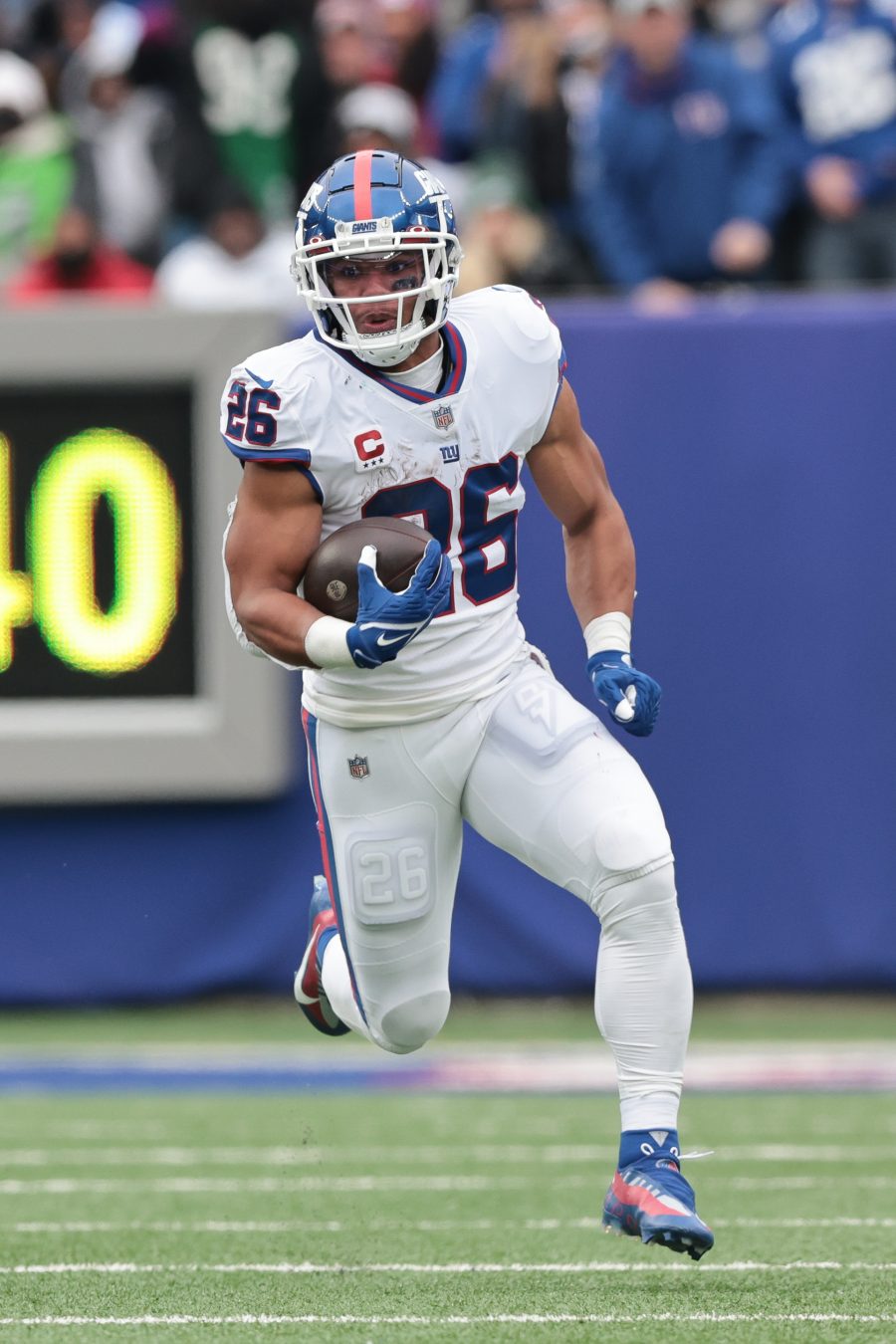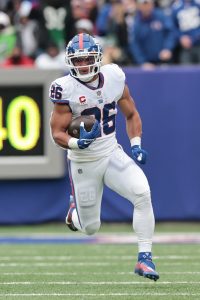 A neck injury ended Jones' 2021 season after 11 games. Although the Duke product's 24 touchdown passes as a rookie — in just 13 games — remain a top-10 all-time mark for first-year passers, he did not show much in the way of development during the 2020 and '21 seasons. In 14 starts in 2020, Jones threw just 11 TD passes. Considering the 2020 CBA made fifth-year options fully guaranteed, the Giants predictably passed on Jones'. But the dual-threat QB showed long-elusive progress in his contract year. The Giants are making a bet superior weaponry will further unlock the Dave Gettleman-era draftee's capabilities.
As for Barkley, it will be interesting to see how he responds. The former No. 2 overall pick congratulated Jones on his extension (Twitter link), but he is now attached to a $10.1MM salary after turning down an extension in the $12.5MM-per-year range. The guarantees included in the Giants' proposal are not known, but it has long been assumed GM Joe Schoen is not expected to offer Barkley a deal in the Christian McCaffrey neighborhood ($16MM AAV). That will create another notable deadline for the Giants, who have until July 17 to extend Barkley. Otherwise, the sides cannot discuss a deal until 2024. A compromise of $14MM per year emerged weeks ago, but the Giants and Barkley are still not believed to be close.
Barkley, 26, is obviously a superior NFL player to Jones. Positional value led the Giants to understandably prioritize the less accomplished player. Barkley's hot start to the 2022 season — one that ended with the Penn State product totaling 1,650 scrimmage yards and 10 touchdowns, completing a comeback from an injury-plagued three seasons — earned him an early negotiation slot with Schoen. Like Jones, the new regime was not completely sold on Barkley coming into the year. Trade buzz circulated early during the 2022 offseason, but both Gettleman-era investments earned the new regime's trust.
The Giants negotiated with Barkley, and not Jones, during their bye week last season. They did not come close on terms, and although Barkley talks resumed before Jones' negotiations began this offseason, no compromise is imminent. Fortunately, the team had the tag at its disposal to ensure its cornerstone tandem returned. Considering only one player has skipped the season after being tagged since 1998 (Le'Veon Bell, 2018), it is a good bet Barkley will be in uniform for the Giants in 2023.
The Giants entered Tuesday with more than $36MM in cap space. Today's transactions will eat into that total considerably, with Fowler adding (via Twitter) Jones' 2023 cap number should come in around $19MM. But the team's plan to pursue wideouts and potentially bring back Julian Love should not be entirely nixed because of this afternoon's high-profile transactions.
Follow @PFRumors