The 49ers' running backs room is loaded with talent but loaded, too, with questions marks and a history of injuries. In a breakdown of every San Francisco player from OTAs to minicamp, The Athletic's Matt Barrows laid out the situation.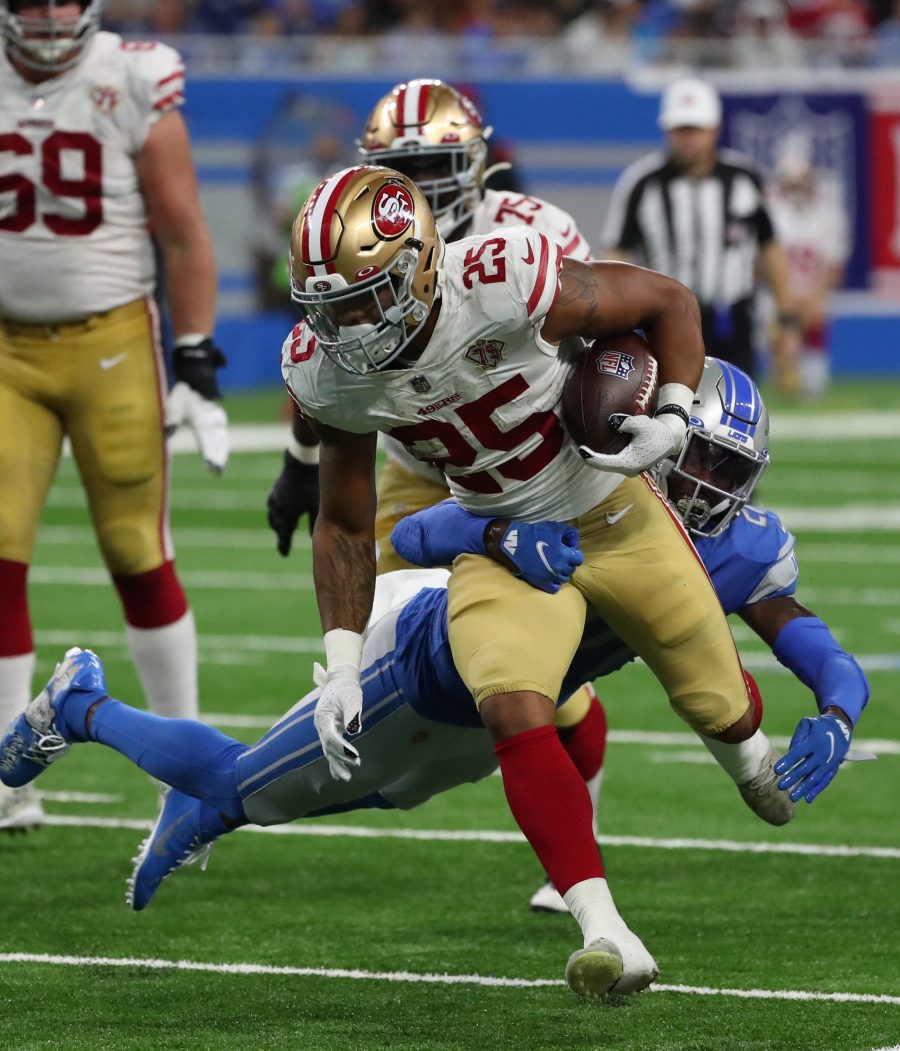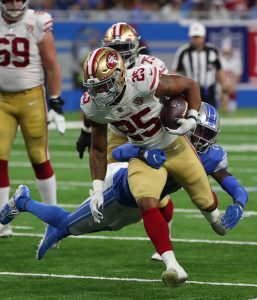 The 49ers counted on a sixth-round rookie as their lead back last year. Elijah Mitchell took over early in the season as the Week 1 starter, Raheem Mostert, ended his year after only two carries. Mitchell went on the start ten games for San Francisco totaling 963 yards in eleven appearances to break the 49ers' single-season rushing record for a rookie. The one notable drawback on Mitchell's rookie campaign was that he was inactive for six games, a theme that will be repeated throughout this piece. Continuing on that note, Mitchell had knee surgery in the offseason that forced him to miss all of the team's spring practices. He's expected back for training camp and is likely to start the season as the 49ers' lead back once again.
The top backup running back is a bit up to debate as Barrows believes Jeff Wilson is next in line, while ESPN's Nick Wagoner asserts that rookie third-round draft pick Tyrion Davis-Price will jump the rest of the room on the depth chart.
Wilson served as the starter when Mitchell missed time last year and took over RB1-duties this spring with Mitchell sidelined. Surgery on a torn meniscus in his right knee forced Wilson to miss the first eight games of the year last season, and it took him a little while to regain his footing. Now over a year removed from surgery, Wilson should be back to full strength and provide a strong secondary-option beside Mitchell.
Davis-Price declared for the 2022 NFL Draft early after a strong junior year at LSU where he rushed for 1,003 yards and 10 touchdowns. He was brought in to shore up a running back room that's been oft-riddled with injuries, but Davis-Price suffered a minor injury in the first week of OTAs and sat out the remaining work outs. Hopefully, this is the extent of the effect San Francisco's running back curse has on the 21-year-old.
Trey Sermon was drafted three rounds before Mitchell last year but saw his teammate overtake him on the depth chart as the speed of the game at the NFL-level proved a bit too much for Sermon during his rookie season. Sermon had two starts early in the year, when Mostert and Mitchell were injured and Wilson had yet to return from surgery. Coaches desired that he be more decisive when toting the ball and he found himself sidelined for the last six weeks of the season, once Wilson and Mitchell were back and (relatively) healthy. Sermon served as RB2 this spring with Mitchell out, but, if Wagoner is correct and Davis-Price is slotted in as the second-string running back, Sermon could find himself fourth on the depth chart to start the season, and it's hard to imagine San Francisco carries more than four running backs into the regular season.
If that last statement is true, and hypothesizing that the 49ers will decide to carry four running backs into September, Sermon will have his work cut out for him as he competes with JaMycal Hasty. The former undrafted free agent isn't quite the rusher that Sermon is, but Hasty has been the team's best pass-catching option out of the backfield all spring. If the coaches trust Wilson to return to 100%, they may be able to rely on him on those passing downs, but Hasty's quickness could grant him favor in those situations. Plus, Hasty's ability and history returning kickoffs adds a special teams value that Sermon doesn't provide.
There it is, all laid out. Based on talent, the depth chart likely reads: Mitchell, Wilson, Davis-Price, Sermon, Hasty. Maybe, due to the injury luck they've had in seasons past, San Francisco decides they want to utilize 5 of their 53 roster spots on running backs (not including full back Kyle Juszczyk). If not, a top-three of Mitchell, Wilson, and Davis-Price seems likely with a possible fourth-spot being granted to either Sermon or Hasty, depending on need and value.