Despite the questions that still remain with starting quarterback Lamar Jackson, the Ravens secured their backup role today when Tyler Huntley signed his restricted free agent tender, according to Jamison Hensley of ESPN. Huntley will return Baltimore after three years with the team.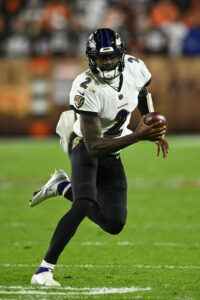 Despite signing with the Ravens as an undrafted free agent out of Utah, Huntley has outlasted veterans and draft picks as the team's preferred option to backup Jackson. He only appeared in minimal time in two games as a rookie but has since started four games in each of the last two seasons. In total, Huntley has found time in 15 games, leading the Ravens to a 3-5 record in his eight starts.
Huntley is an attractive athlete for Baltimore because he has a skillset that allows the Ravens to keep the same offensive game plan on the field when Jackson is absent. Huntley has throwing ability to go along with a talent rushing the ball.
The difference is that he doesn't quite do it as effectively as Jackson. Huntley matches Jackson with a good completion percentage (65.6% to Jackson's 63.7%), but averages nearly 60 fewer passing yards per game and over 30 fewer rushing yards per game. He is also less efficient, throwing five touchdowns to seven interceptions, compared to Jackson's 101 passing touchdowns to 38 interceptions.
While Huntley isn't quite ready to permanently take over under center, the Ravens value him as their primary backup. While they explored the free agent market, they placed the original round restricted tender on Huntley. They'll stick with Huntley now on the $2.63MM that his tender pays out in 2023.
Huntley is joined in the quarterbacks room by a fellow Pac-12 undrafted passer in Anthony Brown. They're obviously expected to enter the season as backup quarterbacks, but with Jackson still not having signed his franchise tag, Huntley will want to be ready in case of a holdout.