On a busy day of roster shuffling for the Commanders, a pair of starters have been shut down for an extended stretch while a notable depth defender has been cleared to return. Washington announced on Saturday that linebacker Cody Barton and left guard Saahdiq Charles have been placed on injured reserve, while defensive tackle Phidarian Mathis has been activated from IR.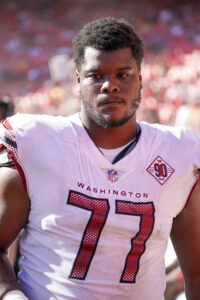 Barton suffered a high ankle sprain in the Commanders' Week 7 loss to the Giants, and the injury will require a lengthy recovery period. The 26-year-old will miss at least the next four weeks as a result of the IR move. That will interrupt his debut season in the nation's capital, which has come after four years in Seattle. Barton signed a one-year deal worth a fully guaranteed $3.5MM in free agency, and he has seen the largest workload of his career with the Commanders.
The former third-rounder's defensive snap share sits at 88% this season, and he has made 61 tackles amidst the uptick in playing time. The latter figure represents the second-largest of Barton's career, though he will be unable to match last season's mark (136) given the time is now slated to miss. Washington has David Mayo and Khaleke Hudson in place at the LB spot, and head coach Ron Rivera has indicated a number of other players will get a look in Barton's absence.
Losing Charles for at least one month will hinder a Commanders O-line which has drawn signficant criticism this season, as quarterback Sam Howell has taken a league-leading 40 sacks. Charles, who has previously seen time at right guard and right tackle, has played exclusively at the LG spot in 2023. The 2020 fourth-rounder has taken on full-time starting duties for the first time this year, though he has earned an underwhelming PFF grade of 59.1 so far. Between that, and the month-long absence guaranteed by today's news, Charles' free agent stock is set to take a hit. Chris Paul and Ricky Stromberg are the likely replacements available to Washington at left guard.
Mathis' activation comes as little surprise, as he was designated for return earlier this week. The 2022 second-rounder was limited to just one game as a rookie due to an meniscus tear, and his return to the lineup (following a separate injury) has been long-awaited. The Alabama product will look to carve out a rotational role on the inside behind the team's high-priced duo of Jonathan Allen and Daron Payne.
Bringing back Mathis will use up one of the Commanders' IR activations, leaving them with six for the remainder of the season. Two of those will be required to bring Barton and Charles back into the lineup when healthy. In the meantime, Washington will proceed with their replacements through an important stretch on the schedule.
Follow @PFRumors