Although our series of prospect profiles thus far has focused primarily on players projected to go in the first round, Wisconsin linebacker Chris Borland has been receiving a good deal of attention in the press as of late, so we thought it might make sense to explore what he has to offer. Indeed, for teams that are looking for a quality Day 2 option, Borland could represent a perfect fit.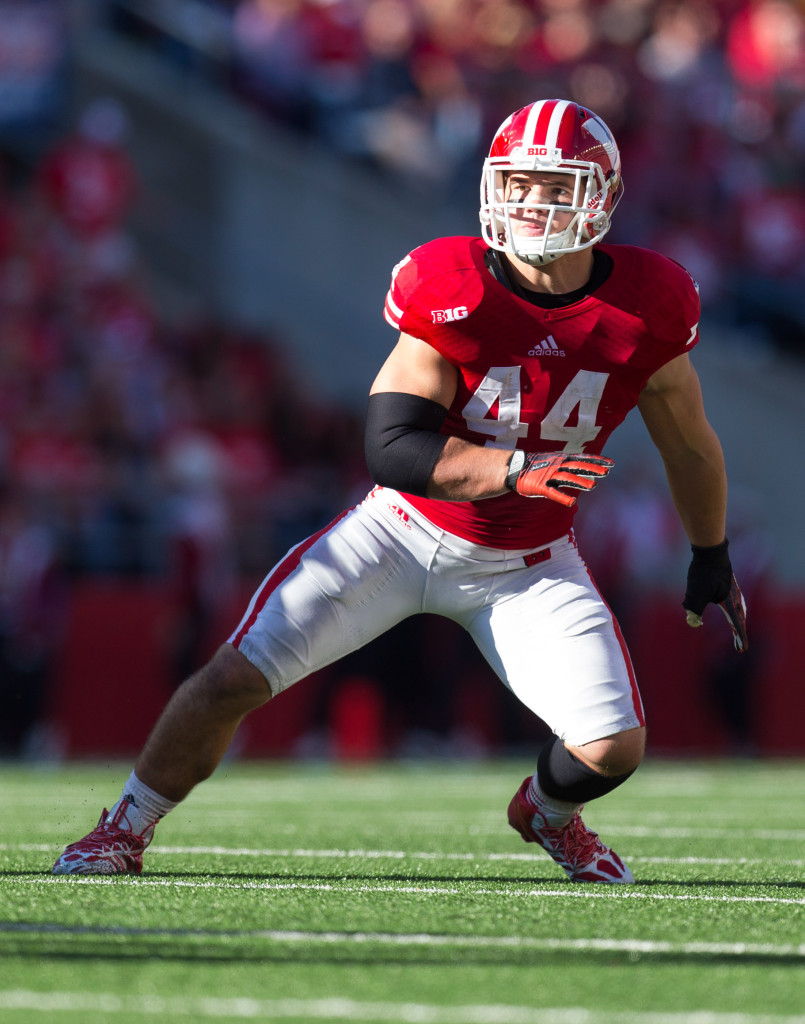 Greg Gabriel of the National Football Post gives a fairly comprehensive view of Borland's strengths and weaknesses. For instance, Borland had a very productive collegiate career, especially in 2013, when he accumulated 112 tackles, 8.5 tackles for loss, and four sacks as Wisconsin's "Will" linebacker. Borland also excels at the mental part of the game, as he has terrific instincts and is an effective blitzer. Also, what he lacks in speed he makes up for in his ability to read routes well and in his pass drop, which allows him to be useful in zone coverage.
However, because he does have averaged timed speed, he will struggle in man coverage. Also, he is only 5'11" and has very short arms, which means he will miss some tackles. Gabriel calls Borland a "classic overachiever," and although he lacks ideal size and speed, he is explosive in short areas and has good change-of-direction abilities, making him an effective run-stopper. Essentially, if you can live with a few missed tackles and can pair him with a speedy linebacker who can cover receivers downfield, Borland could make a good deal of sense. His intelligence will also be a tremendous asset in the middle of any team's defense.
Arjuna Ramgopal of WEEI.com offers similar insights as Gabriel, noting that Borland has drawn favorable comparisons to long-time Dolphins stalwart Zach Thomas. He adds that Borland is effective at diagnosing plays and is a sure tackler. Combining Ramgopal's analysis with Gabriel's, it seems that as long as Borland can reach you with his short arms, you will probably go down.
As far as his pedigree, Borland is as good as it gets. He was 2013 Big Ten Defensive Player of the Year, 2013 Big Ten Linebacker of the Year, 2013 first-team All-American, 2013, 2012, 2011 first team All-Big Ten, and 2009 Big Ten Freshman of the Year. Because of that pedigree, his production, and his dedication, John McMullen of the Merced Sun-Star labeled Borland a "safe" pick and calls him a "can't-miss contributor."
His one injury concern arose in 2010, when Borland injured his left shoulder and missed all but two games. Bob McGinn of the Milwaukee Journal Sentinel writes that the injury has forced one team to take Borland off its draft board entirely, as that team's physicians believe the shoulder would require additional surgery.
That concern, of course, could drop Borland's stock on draft day. But assuming he is physically cleared to play, the team that drafts him will get a bruising, savvy playmaker who is effective against the run, effective enough in coverage, and who plays every down with the intensity required of his position.
Photo courtesy of USA Today Sports Images.
Follow @PFRumors