When the Bengals passed on Teddy Bridgewater with the No. 24 pick in last month's draft, and subsequently waited until the fifth round before drafting a signal-caller (Alabama's A.J. McCarron), they seemed to send a strong message: Andy Dalton is Cincinnati's quarterback for the foreseeable future.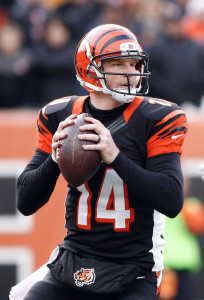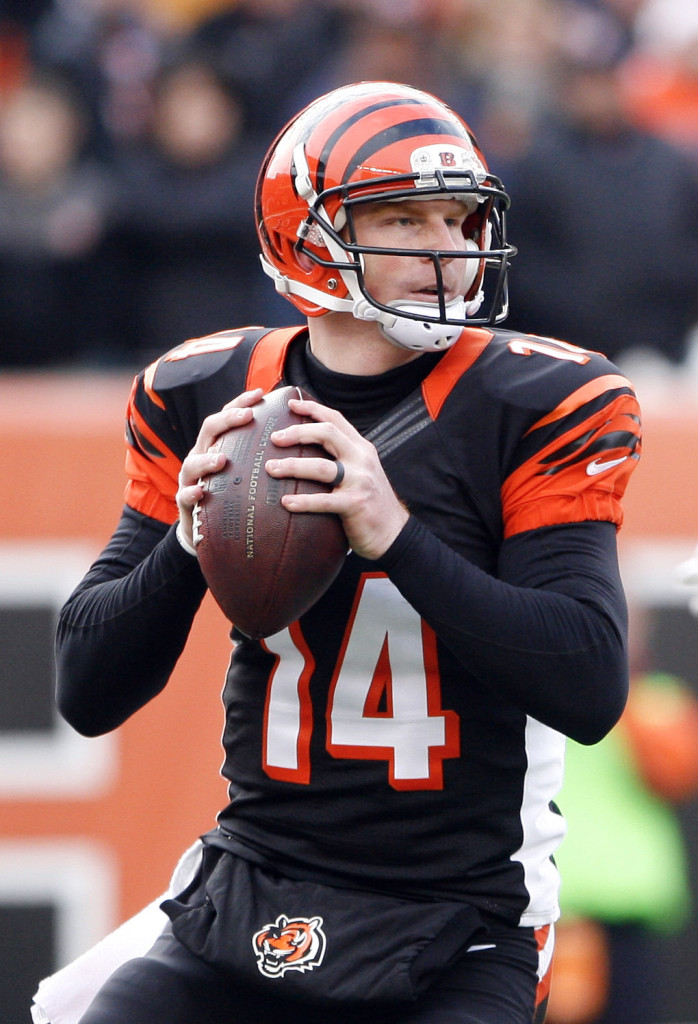 Dalton, selected in the second round of the 2011 draft, has achieved immediate success in the Queen City, leading the Bengals to a 30-18 record and three playoff appearances (0-3 record) during his first three seasons in the league, averaging nearly 3,800 yards passing, 27 touchdowns and 16 interceptions in that span. Advanced metrics rate Dalton as average — Football Outsiders ranked Dalton as the 17th-best QB by DYAR in 2014, while Pro Football Focus (subscription required) graded him as 16th-best. The PFF rating, however, illustrates Dalton's maddening inconsistency — in 2014, he finished three weeks with a +5.0 or better grade, while five other weeks saw him earn a -3.0 or worse mark.
The Bengals, for their part, have a recent history of being willing to pay for performance, as evidenced by extensions for Andrew Whitworth, Carlos Dunlap, and Leon Hall. In March, team owner Mike Brown spoke about Dalton's situation, saying "If it turns out it can't be made to work we will do something elsewhere. I don't think we plan to go another year the way we did this year." Whether that means Cincinnati would be willing to slap the franchise tag on Dalton in 2015 is unclear, but Brown is well aware that the free agent market for quarterbacks is more often than not barren, meaning Dalton is the likely the team's best, and perhaps only, answer at the position.
Cincinnati also has other premier players whom they would like to like to retain — receiver A.J. Green, whose 2015 option was exercised, and linebacker Vontaze Burfict, with whom the Bengals are discussing an extension. While the team currently has over $24MM in cap space, new contracts for Green, Burfict, and Dalton could stretch the Bengals' budget.
In looking for a precedent, the Bengals could look at recent extensions given to fellow quarterbacks Tony Romo and Jay Cutler. Romo signed a seven-year, $108MM deal with the Cowboys in March 2013, which contained $55MM guaranteed. While Romo has outperformed Dalton since the latter entered the league in 2011, he is eight years older than the Bengals QB. Cutler agreed to a seven-year, $126.7MM contract in January 2014, with $54MM in guarantees. Cutler and Dalton have comparable statistics, though Dalton has been healthier and is five years younger.
More potential quarterback extensions are seemingly on the horizon, each of which could affect Dalton's value. Alex Smith is reportedly asking for $18MM per season, Colin Kaepernick could aim for a $20MM AAV, and a Cam Newton contract could surpass each of those potential deals.
With the Bengals taking a pass on adding legitimate competition for Dalton, an extension seems to be the likeliest of outcomes. While the Bengals probably aren't willing to give Dalton a $20MM AAV, I could see them examining Dalton's regular-season success, the randomness of playoff losses, and the lack of enticing alternatives, and handing Dalton a contract in line with what Cutler received: $18-19MM per season, with $50-60MM in guarantees. Such a deal, as opposed to a 2015 franchise tag, would probably give the Bengals the room to negotiate contracts for Green and Burfict, keeping intact a core that could keep Cincinnati competitive for years to come.
Photo courtesy of USA Today Sports Images.
Follow @PFRumors