Dez Bryant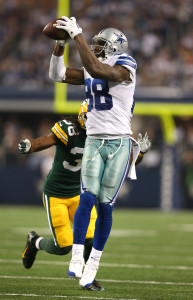 entered the NFL amidst an air of controversy. As a sophomore at Oklahoma State, Bryant caught 87 passes and 19 touchdowns, piling up close to 1,500 yards in the process. He was set to return for his junior year as not only the top receiver in the nation, but as a dark horse Heisman candidate. However, his season was cut short when he was ruled ineligible for failure to disclose his relationship with Hall of Fame cornerback Deion Sanders.
After sitting out, Bryant entered the 2010 NFL Draft, where he was expected to be the first receiver selected. During the pre-draft process, controversy arose again, surrounding an inappropriate question he was asked by then Dolphins' general manager Jeff Ireland. Bryant ended up dropping in the draft, before being selected 24th overall by the Cowboys. He was the second receiver taken, after Demaryius Thomas, who is also a part of our Extension Candidate Series this offseason.
Bryant struggled at times on and off the field during his first two NFL campaigns, but showed flashes and managed to catch 15 touchdown passes through his second year, despite missing five games. He also added two punt return touchdowns as a rookie.
Although Bryant found more trouble his first few seasons in the NFL, he has truly come into his own as an elite receiver the past two seasons. Bryant caught 92 passes in 2012, eclipsing 1,300 yards and hauling in 12 touchdowns. Last season, he grabbed 93 footballs for over 1,200 yards and 13 touchdowns.
Bryant is about to enter the final year of his rookie deal, and is scheduled to earn $1.78MM in 2014. He remains positive that a deal will get taken care of, reports Aaron Wilson of the Baltimore Sun.
"That's going to take care of itself. I'm very confident in the work I put in. Whatever happens, happens," said Bryant. "All I know is I'm going to continue to keep doing my job. That alone shows my dedication and love I have for the game. I'm going to let it work out.''
The Cowboys are not in a great place in terms of the salary cap, especially after the monster extension that they gave Tony Romo, but upcoming extensions are expected for both Bryant and left tackle Tyron Smith. However, the amount of money Bryant will demand is still up in the air. Brandon Marshall's three year, $30MM extension could be seen as the floor for Bryant in terms of annual salary. At the same time, expecting him to reach a number north of $15MM per year is also unlikely, even if he produces on par with Calvin Johnson and Larry Fitzgerald did in their contract years. Especially with the Fitzgerald contract, teams could be unwilling to devote that much money to one receiver.
Of course, with the salary cap climbing this year, and expected to continue to increase in the near future, a contract in the area of what Johnson and Fitzgerald may not an impossible benchmark. For Thomas, the receiver that was drafted just ahead of him, our own Luke Adams projected the Broncos would offer something in the area of five years and $65MM, with over $20MM in guaranteed. Bryant should be in line for something similar.
These two players' negotiations will be linked very closely this offseason. If Luke is correct in his assessment that Thomas will sign his extension before the season, I figure Bryant will be on a similar timetable, and would not be surprised if after one signs, the other ends up with a slightly larger extension shortly after. Of course, with Bryant's history of injury and off the field trouble, the Cowboys could play hardball and wait to see how he makes it through one more season. If that's the case, Bryant could be anywhere in 2015, from preparing for a Megatron-type extension to being the second coming of Hakeem Nicks, depending on how he handles the season.
Photo courtesy of USA Today Sports Images.
Follow @PFRumors