Cowboys wideout Dez Bryant is entering the final year of his rookie deal and should be in line for a big-money, long-term extension in the coming months. However, while Bryant may be the shorter-term priority for Dallas due to his expiring contract, offensive tackle Tyron Smith may ultimately be the more crucial piece for the Cowboys to lock up.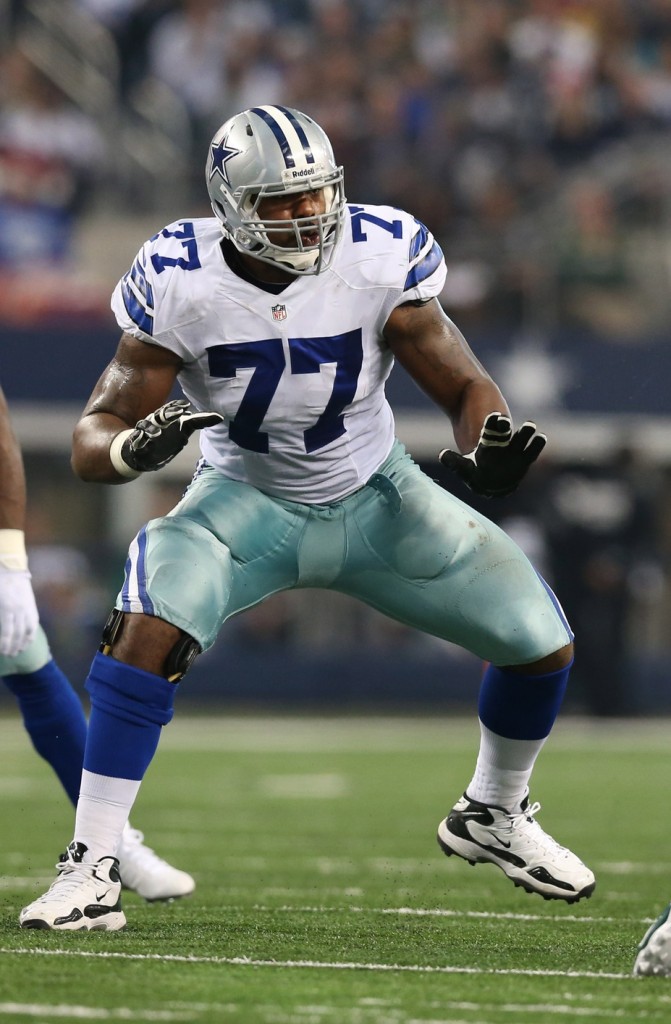 Because Smith was a first-round pick in 2011, the Cowboys were able to exercise their fifth-year team option to keep him under contract through 2015, but the clock is still ticking for the club to work out an agreement that will keep the Pro Bowler in Dallas for several years beyond that. Although we'll have to wait and see whether the Cowboys choose to address the situation this year, it's worth examining what kind of deal it would take to keep Smith in the fold.
Smith, 2011's ninth overall pick, had his work on the outside of the Cowboys' line recognized with a Pro Bowl nod last season for the first time, and his Pro Football Focus grades suggest he was worthy of that spot, with his performance placing him among the top five tackles in the NFL (subscription required).
It was the second time in three NFL seasons that PFF graded Smith as a top-five player at the position, though in his rookie season that ranking came at right tackle, rather than left. During his first year on the left side in 2012, Smith's grades slipped a little, particularly as a pass-blocker, but his play in 2013, combined with his age (23) suggest we should expect to see the USC product continue to develop into one of the league's elite offensive linemen.
If we're assuming Smith should perform like one of the NFL's best tackles, it stands to reason that he should be paid like one as well. So it makes sense to compare his potential contract to the ones signed by players like Joe Thomas, Ryan Clady, Branden Albert, and Trent Williams. As Over the Cap's data shows, the average annual salaries for those tackles range from $9.4MM to $11.5MM, with their overall guarantees coming in between $15MM and $28.5MM.
By the time he negotiates an extension, Smith could be in position to argue he deserves to be paid more than any other left tackle in the NFL. After all, the salary cap is on the rise — by the time Smith's new deal starts in 2016, teams will have significantly more cap space to work with than they did when many of those previous pacts were signed. Additionally, Smith will be in his prime years during his next deal. When the 2016 season gets underway, he'll still be just 25 years old, so even if the Cowboys lock him up for several years past that, the club shouldn't have to anticipate a drop in production over the course of the contract.
So what sort of figures would be fair for Smith? A per-year salary of $12MM+ seems within reach, and a full guarantee that significantly exceeds $20MM also makes sense. The length of the deal figures to depend on whether Smith wants another chance to hit free agency by age 30, or if he wants to commit to the Cowboys for most of his playing career. If it's the latter, Thomas' $80.5MM contract with the Browns might provide a reasonable point of comparison. Thomas established new high water marks for tackles with an $11.5MM annual salary and $28.5MM in guaranteed money on his seven-year deal. Assuming Smith continues to cement his place as one of the NFL's most effective linemen in 2014, it wouldn't be a shock if he surpasses Thomas and establishes new baselines for tackles with his next contract.
Photo courtesy of USA Today Sports Images.
Follow @PFRumors