Notable signings:
Notable losses:
Extensions and restructures:
Trades:
Draft picks:
Other:
The Chargers were a surprise entrant in last year's playoffs, gutting out a tense victory over division-rival Kansas City on the last day of the regular season and getting some help from other clubs along the way to secure the AFC's second wild-card spot. They went on the road to knock off AFC North champion Cincinnati on wild card weekend before finally succumbing to Denver in the divisional round.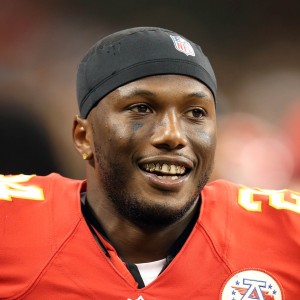 Nonetheless, 2013 was a year of fresh starts and pleasant surprises for San Diego and first-year head coach Mike McCoy. Quarterback Philip Rivers set a career-high with a 69.5% completion percentage and threw 32 touchdown passes, just two short of his career best. Eight of Rivers' touchdown passes went to rookie wideout Keenan Allen, who fell to the third round of the 2013 draft because of injury concerns and made the other 31 clubs in the league look foolish for passing on him. Rivers was also sacked just 30 times after being dropped almost 50 times in 2012, perhaps a testament to the surprisingly strong performance of free agent acquisition King Dunlap at left tackle and the steady play of rookie D.J. Fluker on the right side.
In an attempt to ensure continued stability along the offensive line in 2014 and beyond, the Chargers re-signed guard Chad Rinehart to a two-year, $6MM deal in March. Although Rinehart enjoyed his best season in 2011, according to Pro Football Focus' advanced metrics (subscription required), he did perform well in San Diego's two playoff games last season and still has the potential to be an above-average starter in the league.
The biggest concern on offense may be the loss of offensive coordinator Ken Whisenhunt, who was hired to be the Titans head coach after his one impressive season in San Diego. The Chargers promoted quarterbacks coach Frank Reich to offensive coordinator just one day after Whisenhunt's hiring, and early returns are encouraging. As Eric D. Williams of ESPN.com writes, the Chargers' offense was "purring" in offseason workouts, with Rivers distributing the football all over the field to diverse and talented playmakers like Allen, Ladarius Green, Malcom Floyd, and Vincent Brown.
The Chargers are largely relying on their incumbents to ensure that the offense remains among the league's most productive units for the second consecutive season. The club did not enter the offseason with a great deal of salary cap space, and they did not draft an immediate playmaker on offense. The biggest acquisition on that side of the ball was former Colts' running back Donald Brown, who signed a three-year, $10.5 million deal in March. Brown adds a quality complement to Ryan Mathews and Danny Woodhead, and he represents a useful insurance policy should Mathews struggle with injuries after finally putting together a healthy and productive campaign in 2013.
The team did hand out a lucrative contract extension to linebacker Donald Butler, keeping the prospective free agent off the market with a seven-year, $51.8MM deal (though only $11.5MM of that is guaranteed). Butler suffered through injury and inconsistency in 2013, but he is just 25 and still has a great deal of potential. Butler will team with Manti Te'o to form what the Chargers hope will be one of the most dynamic pairs of inside linebackers for years.
Te'o and Butler will be flanked by outside linebackers Dwight Freeney and Jarret Johnson (both of whom agreed to take a pay cut in March), but perhaps not for long. Given the age and declining skills of both Freeney and Johnson, the Chargers targeted edge rushing help in the draft and, to that end, traded their second- and fourth-round selections (Nos. 57 and 125 overall) to the Dolphins in order to trade up seven spots to No. 50. With that pick, the team chose Jeremiah Attaochu, a 6'3″, 243-pound pass rusher out of Georgia Tech. The Chargers also exercised defensive end Corey Liuget's fifth-year option for 2015, thereby keeping another young, high-ceiling defender who can get to the quarterback under club control.
The most pressing concern for the Chargers this offseason was their porous secondary, and they attacked that unit with vigor. They re-signed Richard Marshall, who was largely ineffective in a part-time role in 2013, but they perhaps hit a pair of home runs in the draft and free agency. They used their first-round pick to select top cornerback prospect Jason Verrett out of TCU, and they were the winners of the recent Brandon Flowers sweepstakes, signing the former Chiefs' corner to a one-year, $3MM deal to prove that he is the elite defender that everyone thought he was in 2011 and 2012.
So the secondary, anchored by stalwart Eric Weddle at free safety, received a significant upgrade, which may be enough to catapult defensive coordinator John Pagano's group into the top half of the league (last year, the Chargers ranked 23rd in yards allowed, though they did yield the 11th-fewest points per game). Combined with what projects to be a strong offensive unit, the Chargers should challenge for the playoffs again. Although dethroning the Broncos in the AFC West may be too much to ask, the wildcard is well within reach.
Spotrac and Over The Cap were used in the creation of this post.
Follow @PFRumors