Days before last month's draft, reports surfaced indicating that Chiefs cornerback Brandon Flowers was a trade possibility as Kansas City looked to acquire more picks. Such a deal never occurred, but rumors persist that Flowers is a poor fit for Chiefs defensive coordinator Bob Sutton's scheme. Flowers wasn't present for last week's OTAs, leading many to wonder if he was angling for clarification regarding his role and future with the team.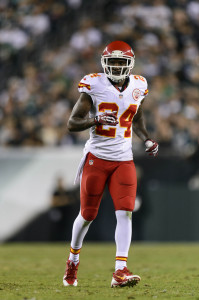 A trade of Flowers would have to clear several hurdles, first of which would be his play in 2013. Though Flowers, who accrued one interception and 65 tackles in 13 games last season, was selected as a Pro Bowler, advanced metrics show he was anything but — his -5.9 Pro Football Focus grade (subscription required) ranked him as just the 87th-best CB in the league last year. However, PFF rated Flowers as a top-10 corner in both 2011 and 2012, so perhaps the scheme concerns are valid (2013 was Sutton's first year in Kansas City).
The Chiefs, having gone 11-5 in 2013, are a team in win-now mode, so ridding themselves of a talented player like Flowers might not be the most ideal route. Sans Flowers, Kansas City would be left with Sean Smith and Marcus Cooper as starters, with rookie Phillip Gaines manning the slot — not exactly the most exciting trifecta. Another season learning Sutton's defense could only help, and with more experience in the system, Flowers might flourish and begin to exhibit his prowess once again.
The final, and most pressing, issue regarding a trade of Flowers is his contract, which is set to pay him base salaries totaling $18MM over the next three seasons. He is also due $4MM in roster bonuses and $500K in workout bonuses during that span. It could be tough to find a team willing to assume that responsibility, especially given Flowers' lackluster play last year. Additionally, Flowers hasn't been the most durable player over his career (having played the entire 16-game slate only once, in 2011), so a team probably wouldn't feel comfortable paying for a player who can't stay on the field.
For the Chiefs, a trade of Flowers could help alleviate their salary cap situation. Currently sitting at about $3.5MM under the cap, Kansas City could use the money saved by trading Flowers on extensions for quarterback Alex Smith or linebackers Tamba Hali and Justin Houston. While Flowers has a pretty good track record, and is still young at 28, the value of freeing up cap room cannot be overstated. While cornerback is certainly a premier position in today's passing league, the ability to retain Smith is probably more enticing in Kansas City.
Most teams could use another talented corner on their roster, but Flowers' salary limits his potential destinations. The Jets have the cap room to bring in Flowers, but he probably wouldn't fit in Rex Ryan's scheme. Two teams that pop out as fits are the Buccaneers and the Titans, each of whom lost an excellent corner during the offseason (Darrelle Revis and Alterraun Verner, respectively). Both franchises have the financial wherewithal to make such a move, and Flowers would be a welcome addition to either team's defensive backfield.
Having said that, I still think a trade is unlikely. The salary obligations and Flowers' subpar 2013 season make him a risky investment. If a trade were to occur, I wouldn't expect Kansas City to receive more than a fifth-round pick, at the very best.
Data from Over The Cap was used in the creation of this post.
Photo courtesy of USA Today Sports Images.
Follow @PFRumors