WEDNESDAY, 7:42am: In a pair of articles, Mike Florio of Pro Football Talk passes along some additional details on the money in Peterson's new deal. Per Florio, the total new money in the five-year extension works out to $70.05MM, meaning Peterson's annual value of $14.01MM slightly edges Sherman's $14MM, which is presumably not a coincidence.
As for the guaranteed money, Peterson gets a $15.3MM signing bonus, but it appears most of the rest of his $48MM guarantee is guaranteed for injury only now — it becomes fully guaranteed in chunks on the fifth day after the Super Bowl in 2015, 2016, and 2017.
TUESDAY, 10:50pm: Cornerback Patrick Peterson announced via Twitter that he has agreed to a five-year extension with the Cardinals. The deal can be worth as much as $70MM and includes $48MM in guaranteed money, according to Peterson. If those numbers are accurate, then Peterson has leapfrogged Richard Sherman as the league's highest-paid cornerback.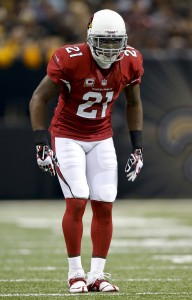 Peterson, who turned 24 earlier this month, hasn't missed a game during his three years with the Cardinals so far, earning Pro Bowl nods in all three seasons, as well as a spot on the NFL's All-Pro squad twice. The former fifth overall pick has exhibited a knack for big plays since entering the league in 2011, returning four punts for touchdowns in his rookie season and producing 21 career turnovers on defense (12 interceptions, nine fumble recoveries).
With the new multiyear pact, Peterson becomes the first 2011 first-round pick to ink a contract extension, two years away from reaching free agency. The Cardinals exercised their fifth-year option for 2015 on the standout cornerback earlier this offseason, ensuring that he was already on the books for a salary of $10.081MM in '15, so presumably the extension adds five new seasons, locking him up through 2020. Those fifth-year options have reduced the leverage of 2011 first-rounders in contract talks, but as we heard earlier today from Peterson and GM Steve Keim, that didn't stop either side from actively pursuing a new deal ahead of the 2014 season.
Sherman and fellow star cornerback Joe Haden secured new contracts of their own this year, making Peterson's deal the third huge extension of the offseason for corners. Peterson doesn't have quite the same track record of elite play as Sherman and Haden, as Pro Football Focus' metrics (subscription required) show, but he has youth on his side, as well as that big-play ability, which earned him a deal in the same range.
Our own Luke Adams wrote in May that Peterson would look to get something similar to the $14MM annual salary Sherman got on his four-year extension while topping the $45MM in guaranteed money that Haden received on his five new years, and it seems the LSU product managed to do both — of course, on Haden's contract, only about half of that $45MM was fully guaranteed, and I'd expect something similar for Peterson, so we'll have to wait for the full details.
In any event, now that Peterson has opened the door for 2011 first-rounders to sign extensions, it's possible we'll see more new contracts signed by that draft class in the coming weeks. Teams still hold most of the leverage, but Peterson's deal showed that rising stars can still do quite well for themselves two years away from free agency. J.J. Watt, Cam Newton, A.J. Green, Tyron Smith, and Robert Quinn are among the other big-name 2011 first-round picks that will be seeking large second contracts either this year or next.
Luke Adams contributed to this post. Rand Getlin of Yahoo! Sports (Twitter link) reported earlier today that the Cards and Peterson were nearing agreement on a new deal. Photo courtesy of USA Today Sports Images.
Follow @PFRumors