Notable signings:
Notable losses:
Trades:
Draft picks:
Other:
As our Luke Adams pointed out yesterday, the Jaguars are probably at least a year or two away from making a legitimate run at the AFC South, which the Colts appear to have firmly in hand in 2014. Nonetheless, there is a positive vibe surrounding second-year head coach Gus Bradley, and the Jags acquired a number of solid veterans on both sides of the ball in free agency in an attempt to remain competitive as they continue to build for the long-term.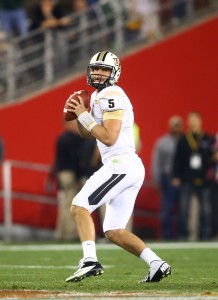 Former Broncos left guard Zane Beadles, who was given a lucrative five-year, $30MM deal, should add stability along the interior of the offensive line. Beadles' best season came in 2012, when he earned a trip to the Pro Bowl after yielding just one sack and finishing 17th out of 81 eligible guards according to Pro Football Focus' (PFF) advanced metrics (subscription required). One concern is that, outside of that 2012 campaign, Beadles has not performed especially well by PFF's standards in any of his other three seasons in the league, and the few number of sacks he allowed in 2012 and 2013 can be attributed, at least in part, to Peyton Manning's quick release. However, Beadles is one of those players whose game film often belies his next-level analytics, and although Jacksonville may have overpaid for him, he represents a significant upgrade over Will Rackley, who started 11 games at left guard for the club in 2013.
In the offensive backfield, the team parted ways with Maurice Jones-Drew, one of the most dynamic playmakers in Jacksonville's brief history, and replaced him with former Viking Toby Gerhart. Gerhart has only served as a spot starter and change-of-pace back for Minnesota, but the Jaguars apparently liked the former Heisman finalist enough to hand him a three-year, $10.5MM contract and a starting role. Gerhart certainly has talent, and it was probably time to move on from Jones-Drew, but Gerhart's lack of a track record does create an element of unease. However, seventh-round pick Storm Johnson from the University of Central Florida is a strong runner with quick feet and could be a late-round steal for the club.
The Jaguars also targeted defensive help in free agency. Red Bryant, an accomplished run-stopper, will team with pass rushers Chris Clemons and Dekoda Watson to form a stronger front-seven. The team's coaching staff believes that Watson has "unique pass-rushing skills" and envision him as the "Otto" linebacker in Bradley's defensive scheme. Clemons had posted at least 11 sacks in each of his first three seasons in Seattle before dropping off last season as he recovered from a torn ACL. Even at age 32, however, a healthy Clemons should be able to get to the quarterback fairly frequently, and the team expects continued improvement from 2012 second-round pick Andre Branch. In short, then, the team's pass rush will not make opposing signal-callers lose much sleep, but it should still be more effective than it was in recent seasons. This is not to mention the addition of former Steelers' mainstay Ziggy Hood, who has struggled in the past several years but who still offers some limited upside.
Of course, the NFL is becoming increasingly driven by the passing game, and, to that end, the club traded former first-round pick and abject disappointment Blaine Gabbert to the 49ers and selected Blake Bortles with the No. 3 overall pick in this year's draft. However, the club learned from its mistakes with Gabbert, and veteran Chad Henne, who has performed as well as could be expected for the Jaguars, was re-signed in order to give Bortles some time to learn without being thrown into the fire from day one.
After drafting Bortles, the Jaguars selected talented receivers Marqise Lee and Allen Robinson with their two second-round picks. In any other year, Lee and Robinson might have been first-round selections, but with the historically deep wide receiver class this year, Jacksonville got a little lucky. Although the members of the team's receiving corps outside of the oft-overlooked Cecil Shorts and tight end Marcedes Lewis do not have an extensive track record, they do have explosive talent. Shorts, Lee, Robinson, and Lewis will combine with Ace Sanders and Denard Robinson to form a young and intriguing unit for Henne and Bortles.
Again, the Jags will likely not compete for the playoffs this year, but the foundations are being laid properly. They have made an effort to beef up their offensive and defensive fronts, and they have surrounded their quarterback of the future with plenty of high-upside talent. There is reason to hope in Jacksonville, and this time, perhaps, that hope may eventually give way to on-field results.
Spotrac and Over The Cap were used in the creation of this post.

Photo courtesy of USA Today Sports Images
Follow @PFRumors