Notable signings:
Notable losses:
Extensions and restructures:
Trades:
Draft picks:
Other:
In March 2012, Eagles wide receiver DeSean Jackson sat at the podium to talk about his recent five-year extension. The star wideout didn't want to discuss the value of the contract. Instead, he wanted to focus on his desire to stay in Philadelphia.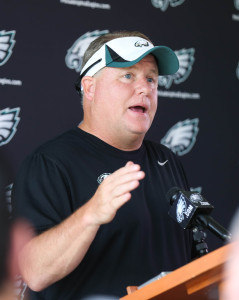 "The relationship I had with the Eagles, I would rather take the opportunity than go anywhere else," Jackson said (via Bob Grotz of DelcoTimes.com). "So, regardless of what money I thought I could have got, or how much more, I'm comfortable. I'm not greedy. I feel good where I'm at here and like I said, I still have ways in my contract of making whatever I'm worth in that contract."
Considering the questions regarding Jackson's character and attitude, general manager Howie Roseman assured the doubters that the team wasn't worried.
"We have no questions about DeSean as a person or a player," Roseman said. "And I think his contract reflects that."
Oh, how things have changed. Jackson was released in late March amid allegations of
"continued association with reputed Los Angeles street gang members." That NJ.com piece by Eliot Shorr-Parks and A.J. Perez also pointed to the player's "bad attitude, an inconsistent work ethic, missed meetings and a lack of chemistry with head coach Chip Kelly." Meanwhile, Kelly attributed the release to "football reasons."
Regardless, the Eagles will be without their cornerstone receiver in 2014. Jackson's production is practically irreplaceable – he was responsible for more than 30 percent of his team's receiving yards last year. His 2013 season is among the best single-season performances in team history (as are his 2009 and 2010 campaigns). If fans were pessimistic following the Jackson move, they probably didn't feel much better about the release of eight-year veteran Jason Avant. So, with all those departures, the dynamic offense will certainly take a step back in 2014, right? Not so fast.
Let's not forget that the Eagles re-signed wideouts Jeremy Maclin and Riley Cooper. Maclin has shown flashes of potential since he was a first-rounder in 2009, but it would be tough for him to single-handedly fill the void left by Jackson. The 26-year-old hasn't played since 2012 and is coming back from an ACL injury, so expecting immediate production might be unfair. Cooper had his best statistical season in 2013, finishing with 835 yards and eight touchdowns. The duo will likely top the depth chart, but there's also two promising rookies backing them up. The Eagles used their second and third picks on receivers, taking Vanderbilt's Jordan Matthews and former Chip Kelly product Josh Huff. Matthews could certainly make an impact immediately; he finished his senior season with 112 catches for 1477 yards and seven touchdowns. While the group may lack the star power, it is certainly a deeper receiving squad than last year's crew.
To help make up for Jackson's loss, the Eagles also traded for Saints running back Darren Sproles. The team didn't need much help in the running game after finishing with a league-leading 2566 rushing yards last season. However, Sproles is an elite receiving halfback, and the veteran will certainly be one of Nick Foles' favorite targets. Bryce Brown was a solid, young running back, but Sproles universal impact on offense made the 23-year-old expendable.
The team extended two key members of the offensive line, Jason Peters and Jason Kelce. Peters earned his second First-Team All-Pro selection in 2013 and Pro Football Focus (subscription required) ranked Peters as the fourth-best overall tackle in the league. Dishing out a four-year contract to a 32-year-old lineman certainly has some risk, but Peters should at least contribute at an all-star level in 2014. The team also locked up the 26-year-old Kelce for six more years. Pro Football Focus ranked him as the best center in 2013, and he will now be among the five highest-paid at his position.
The team's other "big" offensive move shouldn't make much of an impact on the field, as the team replaced Michael Vick with former Jets quarterback Mark Sanchez. The offense is clearly in the hands of Foles, and it will be interesting to see whether the sides come to an agreement on an extension or hold off until next offseason.
The team will also see a bit of a makeover defensively. The majority of the team's departed defenders had their roles reduced once Kelly took over. The Eagles lost a solid run-defending safety in Patrick Chung, but the rest of the team's departures only accounted for a combined 368 snaps last season. While the team didn't lose much defensively, they certainly gained some reinforcement, notably safety Malcolm Jenkins. The 26-year-old finished 2013 with 68 tackles and two interceptions. Newcomer Nolan Carroll, who proved to be a solid cornerback with the Dolphins last season, will also help out the secondary along with veteran Nate Allen, who was brought back on a reasonable one-year deal.
The team also focused on defense in the draft, selecting Louisville defender Marcus Smith with the 26th pick. Smith finished last season with 42 tackles, including 18.5 for a loss, and 14.5 sacks, earning him AAC Defensive Player of the Year honors. He'll likely be stuck in a rotation with Connor Barwin and Trent Cole, but Kelly could capitalize on the rookie's versatility to keep him on the field. The team also selected Florida's Jaylen Watkins in the fourth round, and the cornerback could contribute immediately as a nickelback.
It's hard for any team to win 10 games in the NFL and even harder to do it in consecutive seasons. However, Kelly's system clearly succeeded, and the coach spent the offseason constructing a roster that reflected his game plan. We'll see if it works again in 2014.
Spotrac and Over The Cap were used in the creation of this post. Photo courtesy of USA Today Sports Images.
Follow @PFRumors