While we wait for the NFL to announce its decisions on players like Josh Gordon and Aldon Smith, who will likely face lengthy suspensions for the 2014 season, the league confirmed today that another player will be banned from his team's Week 1 contest next month — Chiefs wideout Dwayne Bowe was suspended for a game as a result of his arrest for marijuana possession last fall.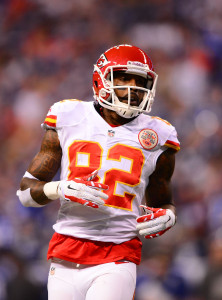 On the surface, a one-game penalty for Bowe may not seem like a significant blow for him or his team, but as former agent Joel Corry of CBSSports.com points out (via Twitter), the remaining base salary guarantees on Bowe's contract are voided as a result of his suspension. Jason Fitzgerald of Over the Cap breaks down the specifics, writing that the 29-year-old previously had his full $8.75MM salary for 2014 guaranteed, along with $1.5MM of his $10.75MM salary for 2015. Now that he's been suspended, those guarantees are no longer in place.
According to Fitzgerald, the elimination of the guarantee on Bowe's 2014 salary is merely semantic — in Fitzgerald's view, we're so close to the start of the regular season that it won't make a huge difference for the Chiefs, who will rely on the receiver to be one of Alex Smith's favorite targets this season. On the other hand, Mike Florio of Pro Football Talk outlines a scenario in which the voided guarantee could create a window for Kansas City to part ways with Bowe, likely by releasing him rather than trading him.
Prior to the suspension, Bowe's contract, which has a cap number of $12MM for the 2014 season and $14MM for 2015, would have counted as $11.75MM in dead money this year and $10.5MM in dead money for next year if the Chiefs had cut him — in other words, the cap savings would have been minimal. Now, Kansas City could release him and take a 2014 cap penalty of just $3MM ($9MM in savings), with the remaining $9MM hitting next year's cap. As Florio points out, such a move would not only create a sizable chunk of cap space immediately for the Chiefs – perhaps making it easier to sign Smith to a long-term extension – but it could open the door for Bowe to land with a receiver-needy team like the Browns.
For now though, that line of thought appears to just be speculative. While the lack of guaranteed money on Bowe's 2015 salary will be something to consider for the Chiefs when they decide whether to keep him the veteran wideout around beyond this season, the odds of the club releasing him in the coming weeks are slim. As Terez Paylor of the Kansas City Star tweets, as much as the Chiefs talk about liking their young wideouts, Bowe is still their No. 1 option, and cutting him would come off as a signal the club is punting on the 2014 season.
Bowe's one-game suspension and voided guarantees will give the Chiefs something to think about as they consider their short- and long-term options at receiver. And perhaps one of the team's other wideouts will shine in the game Bowe misses, setting the stage for a breakout season that makes the former Pro Bowler more expendable at year's end. At the moment, however, it's presumptuous to assume that his one-game ban will affect Bowe's 2014 status in Kansas City.
Photo courtesy of USA Today Sports Images.
Follow @PFRumors