After nearly a full offseason without a 2011 first-round draft pick signing a contract extension, a pair of players kicked things off once training camp got underway, as cornerback Patrick Peterson inked a long-term deal with the Cardinals, followed by offensive tackle Tyron Smith doing the same with the Cowboys. Still, the introduction of the fifth-year option for first-round picks has slowed – or at least delayed – negotiations for most of the first-rounders from 2011, the best of whom are now locked up through 2015 thanks to those options.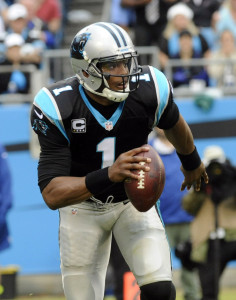 It has created something of a paradox, as the star players perhaps most deserving of new deals still don't have them, while 2011 draftees selected in later rounds have more leverage to get something done. In recent weeks, two noteworthy quarterbacks drafted in 2011 have signed new contracts, as Colin Kaepernick reached a long-term agreement with the 49ers, and Andy Dalton put pen to paper to remain with the Bengals. Both Kaepernick and Dalton were second-round picks, meaning they were entering contract years. On the other hand, 2011's first overall pick, Cam Newton, is currently under contract through 2015 after Carolina exercised his fifth-year option, which gives the team an extra year to work something out.
Nonetheless, even if Newton and the Panthers aren't likely to announce a new deal before the calendar turns over to 2015, the 25-year-old is a strong candidate to receive a contract extension at some point. So it's worth exploring what sort of deal he may eventually sign.
Unlike some of his contemporaries, Newton took over his club's starting job from day one, having started all 48 games for the Panthers over the course of his three NFL seasons. The Auburn product was also effective immediately, racking up over 4,000 passing yards and running for an incredible 14 touchdowns in his rookie season — he has yet to match or surpass either total. Still, while Newton's first season may have been his most impressive statistically, he has helped the Panthers steadily improve in the years since, going from six wins in 2011 to seven in 2012 before leading the team to an NFC South crown with a 12-4 record in 2013.
Newton is the Panthers' quarterback of the future — the team is confident of that much. And that simple fact means the floor on his next contract should be fairly high. It's hard to argue, for instance, that Newton should receive any less than Dalton, who agreed to a six-year, $96MM pact that can be worth up to $115MM depending on whether the Bengals have postseason success with Dalton at the controls. Still, the structure of Dalton's contract makes it fairly team-friendly, allowing Cincinnati to part ways with him cheaply after two or three seasons if the club isn't happy with his progress. Newton seems more likely to push for the kind of deals signed by the likes of Jay Cutler and Tony Romo — not only is the annual base value on those extensions a little higher (around $18MM per year), but the up-front guarantees ($38-40MM) are significantly more sizable than the ones earned by Dalton and Kaepernick.
Cutler and Romo signed those contracts despite not having extensive postseason success, so Newton's lack of playoff experience shouldn't necessarily hurt his leverage significantly. But Newton also hasn't posted the kind of huge regular season passing numbers that Romo has — over the last three years, the Cowboys' quarterback has averaged 4,305 passing yards, 30 touchdowns, and just 13 interceptions, compared to 3,766, 21, and 14 for Newton.
A key issue in negotiations between Newton and the Panthers will be the question of how much value his running ability adds to his overall worth. With 28 rushing touchdowns in three years, Newton essentially makes up the difference between his and Romo's passing TD totals with his legs. However, a quarterback's ability to run the ball usually takes a hit as he ages, and if the Panthers want to commit to Newton for five or six additional seasons, they'll need to consider how long his rushing ability will help compensate for his middling passing production, or whether they expect those passing skills to improve.
As is, Newton has ranked among Pro Football Focus' top 15 quarterbacks in each of his first three seasons (subscription required), but he has also posted the lowest passing grade among the top 15 in all three seasons — overall, PFF has assigned Newton a +39.0 career grade for his running, compared to a -2.4 career mark for his passing. By comparison, Ryan Fitzpatrick (0.0), Eli Manning (-0.3), and Kellen Clemens (-0.6) were among the quarterbacks with better passing grades than Newton in 2013.
With negotiations between Newton and the Panthers unlikely to significantly ramp up until after the 2014 season, one also has to wonder if Newton's value could dip between now and then. So far, the 25-year-old has avoided big hits and has stayed very healthy, but running quarterbacks are generally more likely to be injured than pocket passers. Additionally, even if Newton plays another 16 games this season, his offensive weapons are a little lacking, after the club saw receivers Steve Smith, Brandon LaFell, Ted Ginn, and Domenik Hixon depart via free agency. First-round pick Kelvin Benjamin should help, and free agent signees Jerricho Cotchery and Jason Avant are reliable enough, but the group probably won't strike fear into many cornerbacks' hearts. Although Newton should still post solid numbers, his overhauled receiving corps limits his chances at a breakout year.
Ultimately, despite the fact that he was a No. 1 pick, Newton looks more likely to be rewarded with a contract extension in the Kapernick/Dalton mold rather than signing a Cutler/Romo-esque deal. I expect Newton to land a little more guaranteed money than Kaepernick or Dalton did, in part because the Panthers' lack of cap flexibility may encourage the team to include a larger signing bonus with smaller first- and second-year salaries. To this point though, Newton hasn't shown quite enough to be considered among the league's elite signal-callers, particularly when so much of his value hinges on his running ability. Of course, one could argue that Cutler and Romo shouldn't be grouped with the NFL's elite QBs either, which is a fair point. But based on the way the tide seems to have shifted following Kaepernick's and Dalton's signings, it could be an uphill battle for Newton to avoid agreeing to a contract with similar parameters.
Photo courtesy of USA Today Sports Images.
Follow @PFRumors