TUESDAY, 4:42pm: Jason La Canfora of CBSSports.com (Twitter links) has the specific details on Smith's new deal, which includes an $18MM signing bonus and $19MM in fully guaranteed money. The additional $26MM in reported guarantees will become fully guaranteed on the third day of the 2015 league year.
SUNDAY, 6:30pm: The Chiefs have officially announced the extension. General manager John Dorsey also released a statement:
"It was a priority of ours to get this deal done and keep Alex in a Chiefs uniform long-term. Alex is a proven leader on and off the field. He is a special individual with a lot of ability, and we are fortunate to have him here.
"John and his staff along with Tom and his group have worked hard to get this deal done. They've done a nice job," Chiefs Head Coach Andy Reid said. "Alex is a smart, talented football player that has adapted well to our offensive scheme. He also, obviously, has had a tremendous amount of success as a quarterback in this league. We as a team are very happy to have Alex as our quarterback moving forward."
5:47pm: Alex Smith will be the Chiefs quarterback for the foreseeable future, as Terez A. Paylor of The Kansas City Star reports (via Twitter) that the two sides have agreed to a new deal. A league source tells Paylor that the deal is a four-year extension worth $68MM, with $45MM in guarantees. NFL.com's Ian Rapoport confirms the report, tweeting that the Chiefs are finalizing a deal worth about $17MM per season. ProFootballTalk.com reports (via Twitter) that the deal is worth $30MM guaranteed at the time of the signing, with another $15MM vesting next March.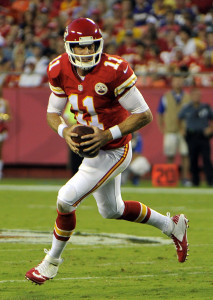 Smith was entering the final year of his contract and was set to earn $7.5MM in 2014. There had been whispers over the past month that the two sides were negotiating, but a report in mid-August suggested that an extension wasn't close. Smith addressed the rumors twice, stating earlier in the month that he wanted to "play out" his next contract. Last week, the quarterback stated that he didn't want negotiations to bleed into the regular season.
Smith had a tumultuous career with the 49ers after being selected first-overall in the 2005 draft. However, once Jim Harbaugh took over as coach, Smith showed the potential that had previously warranted such a high draft pick. Smith had success in his final two seasons in San Francisco, but he was shipped to Kansas City following the 2012 season for a second-rounder and another conditional draft choice.
The 30-year-old had arguably his best season in 2013, earning himself his first Pro-Bowl birth. Smith threw for 3,313 yards, connecting on 23 touchdowns and only seven interceptions. Smith also confirmed that he could perform in the postseason, as he threw four touchdowns in the Chiefs 44-45 loss to the Colts.
However, ProFootballFocus' advanced metrics (subscription required) weren't as high on Smith's 2013 season. He ranked as the 20th-best quarterback in the league, coming in just ahead of Ryan Fitzpatrick and Sam Bradford. In fact, Smith rated as a below-average passing quarterback but elite as a running quarterback, which shouldn't be too surprising since Smith ran for a career-high 431 yards last season.
PFR's Zach Links took a look at Smith's extension candidacy in May, predicting that he could receive a contract similar to that of Tony Romo or Jay Cutler. Ultimately, Zach concluded that $18MM per year would be reasonable for a player of Smith's caliber.
Follow @PFRumors