The NFL's trade deadline is now behind us, but it didn't pass without at least one noteworthy and somewhat surprising move. According to Adam Schefter of ESPN.com (via Twitter), the Buccaneers are finalizing a deal to send former first-round safety Mark Barron to the Rams.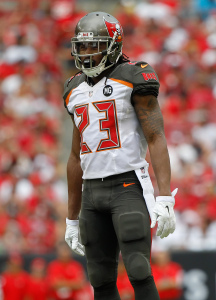 Schefter adds (via Twitter) that St. Louis is parting with its fourth- and sixth-round picks for 2015 in the swap. The team will also clear an opening on the 53-man roster for the incoming defender by cutting quarterback Case Keenum, per Adam Caplan of ESPN.com (via Twitter).
Barron, who turned 25 yesterday, was the seventh overall pick in the 2012 draft, having notably been selected two spots ahead of Panthers linebacker Luke Kuechly. While it would be unfair to label the Alabama product a total bust, he has been underwhelming during his two and a half seasons in Tampa Bay, ranking 70th among safeties in 2012, 55th in 2013, and 66th in 2013, according to Pro Football Focus' grades (subscription required). In 37 games (all starts) for Tampa Bay, Barron has totaled 226 tackles, three interceptions, 19 passes defended, and a pair of sacks.
Because he was a first-round pick in '12, Barron's rookie contract will expire after the 2015 season, though the Rams will have the opportunity this spring to decide whether or not to exercise his fifth-year option for 2016. There's not much risk in picking up that option, since it's initially guaranteed for injury only, but given Barron's average play to date, and the pricey salary attached to the option, I'd be surprised if the Rams exercise it, barring a huge 2014 second half from their new safety. As for Barron's 2015 salary, the Bucs will carry about $2.24MM in prorated bonus money on their cap, while the Rams will be on the hook for the safety's $2.363MM base, which is fully guaranteed.
For the Rams, Barron represents a player with some upside at a position where the team has been struggling to find reliable production. T.J. McDonald has manned the strong safety spot in St. Louis for most of this year and last, but his -9.8 grade places him 80th among 83 qualified safeties, per PFF. By acquiring Barron, the Rams will have another fairly low-cost option under team control for the next year and a half.
Meanwhile, having parted ways with Barron and linebacker Jonathan Casillas at the deadline, the Bucs have added a few extra picks to their arsenal as they continue their rebuild. It's unlikely that the Casillas deal with the Patriots netted the team much in return, but acquiring a fourth- and sixth-rounder for Barron isn't insignificant, even if it represents a huge loss in value for a recent top-10 selection. Although Barron and Casillas were on the move today, the Bucs held onto several other potential trade candidates, including Vincent Jackson and Doug Martin.
Rick Stroud of the Tampa Bay Times first reported early this morning that the Bucs were listening to offers for Barron.
Follow @PFRumors