Like most successful NFL teams, the Seahawks aren't a club built through notable free agent acquisitions. Seattle stars Russell Wilson, Richard Sherman, Earl Thomas, and K.J. Wright were acquired through the draft, while Marshawn Lynch and Percy Harvin were obtained via trade. However, the Hawks are not averse to spending wisely in free agency, mostly in the form of modest, short-term deals. During the 2013 offeason, for example, Seattle added several pieces to its defensive line, two of whom (Michael Bennett and Tony McDaniel) signed one-year contracts. In the months since, both Bennett (four years, $28.5MM) and McDaniel (two years, ~$6.5MM) have been retained.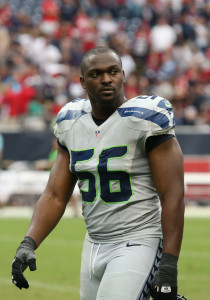 The Seahawks signed a third defensive lineman during that same offseason, one who (at the time) probably had the most name recognition. Cliff Avril was added on a two-year deal worth $13MM; the second year of the pact (2014) became fully guaranteed on February 7. Per Over the Cap, Avril is also eligible to earn as much as $2.1MM in sack-based incentives. Given its significant investment in Bennett, it's fair to wonder if Seattle is interested in extending Avril in order to preserve its outstanding defensive line.
Avril, 28, entered the league as a second-round pick of the Lions in 2008. He became a full-time starter in Detroit the following season, and went on to rack up 39.5 sacks and 124 tackles across 73 games in the Motor City. After his rookie contract expired, Avril rejected a three-year, $30MM contract offer from the Lions, and played the 2012 season under the franchise tag, which was worth roughly $10.6MM.
While Pro Football Focus' grades can't encapsulate every detail of a players' performance, their advanced metrics do paint a complex picture of Avril. Except for the 2010 season, PFF (subscription required) assigned Avril a negative grade from 2008-2012. During that span, the Purdue product exhibited a far greater capacity for pass-rushing than run defending. To illustrate this, I totaled Avril's pass-rush and run-defense grades for that four-year period. Against the run, PFF rated Avril as a -45.5 player from '08-'12 — he was much better at getting to the quarterback, as he garnered a +55.3 grade during the same span. This data portrays Avril as a one-dimensional lineman, one who could help in obvious passing situations but would struggle on early downs.
Even after joining a different defensive scheme in Seattle, Avril continued to struggle against the run. This isn't to insinuate that Avril is a sub-par player, as he accrued a +8.2 grade from PFF in 2013, rating as the 12th-best 4-3 defensive end among 52 qualifiers. But, like the rest of his career, most of his value was tied up in pass-rushing. Through four games this season, however, Avril has shown to be more of a complete DL — PFF says he's the third-best at his position, and is almost as equally proficient against the run as the pass.
Despite Avril's successes, Seattle might be reticent to retain the veteran. General manager John Schneider and head coach Pete Carroll aren't afraid to rid themselves of veterans, especially along the defensive line, as evidenced by their release of both Red Bryant and Chris Clemons earlier this year. Avril will be 29 when the 2015 season gets underway, so the Hawks could be wary of committing to a multi-year deal. Additionally, as Jason Fitzgerald of OTC noted when examining the construction of Super Bowl teams, Seattle isn't a typically-built squad, meaning that spending big on a 4-3 end (which many clubs do) might not be in the cards, especially given that it already has Bennett under contract.
Still, the Seahawks will have more than $29MM available in cap space heading into 2015, and as Jason La Canfora of CBSSports.com reported twice in the past three months, the team is very interested in working out a new deal with Avril. His current $7.5MM average annual value would place him at 14th among defensive ends, in between Carlos Dunlap and Bennett. At first glance, it seems as though Avril should surpass the 12th-highest DE contract: the four-year, $32MM ($15.5MM in guarantees) pact Jared Allen signed with the Bears. However, Bennett, No. 13 among 4-3 ends, was a better player than Avril last year — the two are playing at an equal level in 2014, but Bennett is the more versatile player who can move around in the Hawks' front four.
Ultimately, it's difficult to imagine Seattle giving Avril more money than Bennett received. This creates a conundrum, as Bennett's AAV on his new deal is almost $400K less than Avril's two-year pact. Bennett did take less money to stay with the Seahawks, but it's worth wondering whether Avril would consider less money on a per-year basis in order to secure a large guarantee. I wouldn't be surprised if Seattle offered Avil the exact same contract as Bennett: four years, $28.5MM, with $16MM guaranteed. It would be a nice payday for Avril, a fair deal for the Seahawks, and a way for the team to show how similarly it values the two key pieces on its defensive line.
Follow @PFRumors