It's become almost cliché to note that the running back position has been severely devalued in today's NFL, but glance at most any financial or statistical metric and you'll quickly reach that conclusion. Consider the 2014 free agent running back class, which, while admittedly lackluster and not comparable to the potentially fruitful 2015 RB crop, featured veterans such as Chris Johnson and Darren McFadden, useful role players like Donald Brown and Knowshon Moreno, and backs who seemingly just needed more opportunity in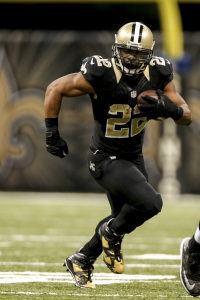 Ben Tate and Rashad Jennings. Despite the league's salary cap being raised by more than nine percent, running back contracts bottomed out, with Johnson receiving the highest annual average value at $4MM, and Brown, at $10MM, garnering the largest total deal.
The league's offensive schemes have changed, as teams are attempting passes at a far greater clip than they are rushing the ball. Since the turn of the century, league-wide pass attempts have risen steadily, while rushing attempts have decreased at nearly the same rate. This season, clubs are running the ball on just 42% of offensive plays. Additionally, the "featured back" is becoming a concept of yesteryear, meaning that no one runner is able to solely elevate his value through repeated opportunities. In each season since 2010, for example, we've seen an average of just four running backs per season receive 300 or more carries. In the 20 seasons prior, an average of 7.25 RBs per season attempted 300+ rushes, a 55% increase. Running back has become a position attended to by a committee, so the league as a whole doesn't positively assess many singular backs.
The draft is another market that has decided running backs are not a worthwhile investment. No RBs were selected in the first round of either the 2013 or the 2014 draft. Four were chosen in the two years prior, but Trent Richardson, chosen third overall in 2012, was the anomaly who was not a end-of-the-round selection. Doug Martin, selected in the same draft as Richardson, went to the Buccaneers at pick No. 31. In 2011, the Giants took David Wilson thirty-second overall, while the player who has been the most successful to this point was chosen four spots earlier. With the No. 28 pick in the '11 draft, the Saints selected Mark Ingram out of Alabama.
Ingram, of course, had won the Heisman Trophy as the NCAA's best football player during his sophomore season in 2009. Drafted to be teamed with a New Orleans running back contingent that already consisted of Darren Sproles, Pierre Thomas, and Chris Ivory, Ingram largely disappointed over his first three seasons in the NFL. Despite leading the Saints' backfield in carries during that span, Ingram never topped 650 yards rushing or five touchdowns, and wasn't a factor in the passing game. In fact, Ingram's approximate value during his first three years in the NFL ranks fourth-lowest among running backs selected in the first round since 2000 during the same stretch of their careers.
New Orleans management was obviously unimpressed, as well, as they declined Ingram's fifth-year option, meaning that he will be an unrestricted free agent after this season. It's a move that general manger Mickey Loomis & Co. have probably come to regret, as Ingram is enjoying his finest season as an NFL player. After Sproles was traded during the offseason, Thomas and fellow runner Khiry Robinson dealt with injuries, leaving Ingram as the lead back. Despite missing two games with a hand ailment, Ingram has rushed 88 times for 431 yards, and scored six times. He's also caught eight balls in just five games; he averaged eight receptions per season during the first three years of his career. Advanced metrics are also a fan of Ingram's work. Despite his low snap totals, Pro Football Focus (subscription required) grades Ingram as the 11th-best running back in the league among 59 qualifiers. Football Outsiders sets the line of demarcation for its statistics at 64 rushing attempts, which Ingram doesn't meet. But among RBs with 63 or fewer carries, Ingram is first in DYAR and third in DVOA.
Despite his current level of production, Ingram might not be with the Saints for long. Ian Rapoport of NFL.com reported yesterday that the 24-year-old is expected to hit free agency at the end of the season. If New Orleans doesn't want to lock Ingram up with a long-term deal just yet, they do have the option of retaining him via the franchise tag. However, given that the club declined to spend the $5.2MM it would have taken to keep Ingram via the fifth-year option, it's doubtful that it would now guarantee him north of $10MM by using the franchise tender. Additionally, the Saints probably don't even have the cap space to use a franchise tag. Over the Cap's data shows New Orleans with negative cap room for 2015, at more than $18MM in the red. The team will obviously have to do some financial maneuvering and/or hope that the salary cap rises dramatically, but it's still unlikely they'd use any cap relief on a franchise tag for Ingram.
Regardless of whether Ingram stays in New Orleans or leaves via free agency, I don't think his contract numbers will be that different. Specifically, I think that his final dollar amount received will be rather modest, far less than most might think. For one, he's part of a relatively loaded free agent class of running backs — DeMarco Murray, Shane Vereen, Frank Gore, Ryan Mathews, Stevan Ridley, and C.J. Spiller are playing on expiring contracts. And though many of those players have their warts (age, injury concerns), it's still a strong crop, meaning that RB-needy teams will have options to choose from.
If he stays healthy for the rest of his historic season, Murray will earn the most among the backs listed, and Ingram is a strong contender to earn the second-most favorable contract. But it's doubtful that any FA back receives the type of deals that LeSean McCoy, Matt Forte, Jamaal Charles, or Marshawn Lynch got. Those four backs are making between $7.3MM and $9MM per season, and were guaranteed between $13.8MM and $20.77MM. Murray could conceivably sneak into the back of that salary range (though I personally doubt it), but Ingram is probably a pay level, or two below.
Like quarterback contracts before Colin Kaepernick, Andy Dalton, and Alex Smith were extended, running back deals don't have much of a middle-tier. The upper-level group earns $7MM+ on what are mostly extensions, and the lower tier, made up mostly of free agents, make $4MM or less in AAV. The only contracts in between are rookie deals paying the likes of Spiller, Mathews, and Richardson. Gore makes about $6.4MM per year, which should set the ceiling for Ingram. Gore was a much more proven player when he signed his deal than Ingram is now, and was constantly putting up 1,000+ yard seasons. Ingram's floor will probably be that of the 2014 FA running class, or about $4MM.
Ingram, like Kaepernick et al., could potentially break new ground and establish a fresh mid-tier level of contracts. An average annual value in the neighborhood of $5.5MM would do just that, and would be fair value for Ingram. I could see him receiving something like $9-10MM in guarantees over the course of a four-year deal. It's a contract that the Saints likely won't be able to afford, and given their affinity for crowded backfields, probably wouldn't even try to match. But another team in need of a running back might be able to lock up Ingram at a relatively reasonable rate, and hope that 2014 Ingram is the true version of the player, as opposed to the 2011-13 model.
Follow @PFRumors