When the Packers agreed to sign Julius Peppers to a three-year, $27MM deal in March, it was fair to wonder if things were changing in Green Bay. For one, Peppers was a 34-year-old career 4-3 defensive end who would be asked to play quite a bit of 3-4 outside linebacker — paying him $9MM a year to do so, especially when he was coming off a subpar 2013 season, seemed questionable. Additionally, the entire concept of free agency is anathema to Green Bay general manager Ted Thompson. Peppers was just the seventh veteran free agent Thompson has added since joining the Packers in 2006, per Bill Barnwell of Grantland.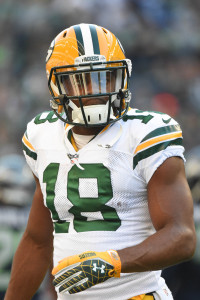 Even more so than the teams like the Steelers or the Giants, who occasionally dip into the free agent pool to acquire a specific need at a reasonable cost, the Packers simply have no interest in bringing in veteran outsiders. Over the Cap's data shows that among Green Bay's top-20 2014 cap charges, just one belongs to a player (Peppers) who has seen any regular-season action with another team. However, those same numbers show that the Packers are more than willing to pay for performance by its own players — Aaron Rodgers, Sam Shields, Clay Matthews, and Josh Sitton are among the Packers who have been signed to a extensions in recent years.
Green Bay was seemingly more reticent to offer fresh contracts to skill position players (excluding Rodgers) until this summer, when it agreed to a four-year, $39MM deal with receiver Jordy Nelson. While the extension made Nelson the eighth-highest-paid wideout in terms of annual value, it's relatively modest in terms of guaranteed money — Nelson received only $11.5MM in guarantees in the form of signing bonus, good for just 23rd among receivers. Still, the deal will certainly remain relevant for the Packers throughout the rest of the season and the offseason, as they attempt to negotiate a new deal with another pass-catcher — fourth-year WR Randall Cobb.
Cobb, 24, entered the league as second-round pick out of Kentucky in 2011. After failing to start a game during his rookie year (but still offering value in the return game), Cobb broke out in his sophomore season, catching 80 passes for 954 yards and eight touchdowns. He ranked ninth in receiver DVOA, and graded as the 11th-best WR per Pro Football Focus (subscription required). Injuries sapped Cobb's effectiveness in 2013, as a fractured fibula limited him to just six games. He's rebounded this season, however, catching 24 balls for 273 yards and six touchdowns through five games. Advanced metrics differ on Cobb's 2014 performance so far — while DVOA rates him as top-3 receiver, PFF grades him as just the 24th-best wideout at this point in the season.
Before entering into negotiations with Cobb, the Packers will first have to decide how much they are comfortable spending on the receiver position. As noted, Nelson has already extended, meaning that a Cobb deal would likely place the team in the upper-echelon in terms of receiver expenditures. Currently, the Dolphins spend the most on WRs (by a large margin) at just over $32MM; the Redskins and Lions are second on third on that list, as each spends about $23MM on wideouts. For the Packers specifically, will the club's emphasis on depth mean that they will refuse to overextend at one position, or will the league's emphasis on passing lead Green Bay to heavily invest in its pass-catching unit?
Assuming Green Bay is interested in working out an extension with Cobb, it can look to several recent WR contracts when looking for comparables. The floor for a new Cobb deal is probably that of Emmanuel Sanders, who received $15MM over three years ($6MM guaranteed) from the Broncos during the offseason. Sanders is off to an incredible start through five games, but heading into the year, his career stats were less impressive than Cobb's. As far as a ceiling, it's safe to assume that Cobb won't top Eric Decker's five-year, $36.25MM contract with the Jets. Both Cobb and Decker have caught passes from Hall of Fame level quarterbacks, and Decker's production outweighs that of Cobb.
The best comparison for Cobb might be Golden Tate, the ex-Seahawk whose free agent contract with the Lions was worth $31MM over five years, with $8MM guaranteed. Physically, the two are alike — Cobb stands 5'10" and weighs 191 pounds, while Tate is listed at 5'11", 195. Each offers value on special teams, and while Cobb is probably regarded as the better big-play threat, Tate has the surer hands. Cobb's career highs in both receptions (80) and yards (954) best those of Tate (64, 898).
While Tate was never an injury risk in Seattle, the same can't be said for Cobb. His injury woes lead me to believe that he will ultimately secure a deal that totals slightly less than that of Tate. Of course, a forward-looking team could view Cobb as an asset with untapped potential. At 26, Tate was viewed as a finished product when he signed his contract; he was a steady player who probably wasn't going to get much better, or worse, during his time in Detroit. Cobb, however, has not only had to battle injuries, but compete for looks with Nelson in Green Bay. If a team aimed to acquire Cobb and install him as a true No. 1 receiver, the possibilities could be limitless.
Cobb ranked fifth on Mike Sando of ESPN.com's June power ranking of 2015 free agent receivers, which was compiled after the scribe spoke with several NFL decision-makers. An offensive assistant was complimentary of Cobb, speaking more favorably of him than 49ers WR Michael Crabtree: "Cobb and Crabtree are interchangeable on my list," said the assistant. "Cobb is the model person and will always show up on time. Crabtree comes off whinier, and the guy from Seattle [Richard Sherman] got in his head. Cobb is coming from the right program with Mike McCarthy, one with structure and discipline and doing the right things. Crabtree does play outside more, but I'd rather coach Cobb."
Ultimately, if Cobb does remain in Green Bay, I'd expect him to sign a deal in the $5.5-6MM per year range, with perhaps $6MM guaranteed. Depending on how the contract was structured, it would probably move the Packers into the top-12 or so in terms of wide receiver spending; they currently rank 24th. The club has the financial wherewithal with which to work, as they have more than $18MM in 2015 cap space available.
For his part, Cobb said this summer that (at the time) his production didn't warrant an extension. "I don't believe I've done enough, and I think that's on me," Cobb told Jason Wilde of ESPN.com. "My job is … to work hard and hopefully my time will come." Wilde's ESPN colleague, Rob Demovsky, wrote earlier today that Cobb could be the one delaying negotiations, rather than the Packers, and noted that Cobb will need to show more before he asks for the type of money that Nelson received. Regardless of the specifics, Cobb's case will be interesting to watch, both from the perspective of the player, who surely wants to match his teammate's contract, and the front office, which is esteemed throughout the league.
Follow @PFRumors