MONDAY, 6:17pm: Albert Breer of NFL.com passes along the details on Palmer's extension (Twitter link). The veteran QB is due a $1MM base salary and a $9.5MM roster bonus in February 2015, both of which are believed to be guaranteed. In February of the following year, Palmer is due a $6.35MM base and a $6.35MM roster bonus, and in February 2017, he's set to earn a $8.15MM base and a $8.15MM roster bonus. None of the '16 or '17 cash is believed to be guaranteed.
FRIDAY, 4:50pm: According to Chris Mortensen of ESPN.com (Twitter link), Palmer's deal includes aobut $20.5MM in guaranteed money through 2015, with no guarantees for 2016 and 2017. I imagine some guaranteed bonus money will be prorated through those last two years of the contract, but it sounds as if the base salary is only guaranteed for '15.
4:25pm: The Cardinals have officially announced Palmer's new three-year extension (Twitter link via VP of media relations Mark Dalton). The new deal is guaranteed through the 2015 season, tweets Adam Schefter of ESPN.com.
3:48pm: Palmer has agreed to a three-year deal that's worth $50MM in total, according to Jason La Canfora of CBSSports.com (via Twitter). We'll have to wait for the full details to find out whether that's the base value of the contract or whether it can be worth up to $50MM. The guaranteed portion of the deal has also yet to be reported.
3:30pm: The Cardinals are on the verge of finalizing a contract extension with quarterback Carson Palmer, according to Ian Rapoport of NFL.com. Rapoport reports (via Twitter) that the deal figures to be for three years, and could be done within the next few hours. Mike Florio of Pro Football Talk first suggested earlier this afternoon that signs were pointing to the two sides working something out in the very near future.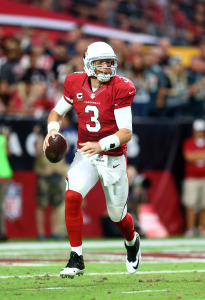 The two-year contract Palmer signed with Arizona when he was acquired from the Raiders in 2013 included a 2015 year. However, that year will automatically void, meaning the veteran signal-caller would have been in line for unrestricted free agency this offseason had the Cards not worked out a new agreement with him.
Palmer will turn 35 next month, and missed some time with a nerve injury earlier this season, but has amassed a 99.3 quarterback rating in five games, throwing 11 touchdown passes to just two interceptions — Pro Football Focus (subscription required) rates him as a solid but unspectacular passer, akin to Alex Smith and Andy Dalton. The naked eye test supports the PFF assessment, but as of right now, Arizona does not need Palmer to be an All-Pro. The Cardinals simply need continued stability and consistency, which, combined with their excellent defense, have created a surprising championship contender.
Of course, Palmer is only a year removed from a season in which he racked up 22 interceptions, but he still represents the team's more stable option, at least for the next couple seasons. Drew Stanton won two of his three starts for the Cards earlier this season in Palmer's absence, but he didn't show in those games that he'd be capable of assuming the full-time starting role in 2015. The club is also carrying rookie Logan Thomas, but the fourth-rounder remains a work in progress who has completed just one of his eight career NFL pass attempts to date.
Last month, PFR's Zach Links passed along word, via Kent Somers of the Arizona Republic, that Palmer and the Cardinals were discussing a potential multiyear contract, and PFR's Rory Parks examined the former Bengal and Raider as an extension candidate this past weekend. In both cases, we suggested that Palmer is unlikely to score a significant raise on his current $9MM base salary, though with the salary cap receiving a nice bump this year and next, I expect at least a modest hike in Palmer's pay. If the new deal is for three years, as Rapoport suggests, a base value approaching $40MM seems within reason.
Rory Parks contributed to this post.
Follow @PFRumors