In 2011, just his second year in the league, Jason Pierre-Paul displayed in grand fashion just what made him so appealing to the Giants, who selected him with the 15th overall pick of the 2010 draft. Using a rare and dynamic blend of size, speed, and athleticism, the man affectionately known as "JPP" racked up 16.5 sacks and was ranked by Pro Football Focus (subscription required) as the league's sixth best 4-3 defensive end out of 67 eligible players. Pierre-Paul also led his position in total tackles, and he earned first-team All-Pro honors in recognition of his efforts as the most dangerous defensive player on the eventual Super Bowl champions.
It would have been difficult to top his outstanding 2011 campaign, but there seems to be a general belief, probably driven in large part by his lower sack totals, that Pierre-Paul has not even come close to replicating his performance from that season. Although he did amass only 6.5 sacks in 2012, PFF (subscription required) ranked him third among 62 qualified 4-3 defensive ends that year, and after an injury-shortened 2013, JPP is up to his old tricks this season, ranking as the fourth-best player at his position among 54 eligible players (subscription required). Although the Giants' defense as a whole has been fairly pedestrian over the course of Pierre-Paul's career (according to Football Outsiders' metrics), Pierre-Paul seems to be holding up his end of the bargain.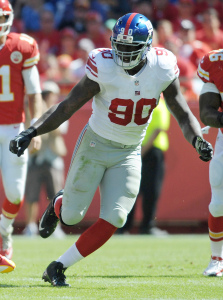 Nonetheless, the two sides appear headed for a parting of the ways after 2014. As PFR's Rob DiRe wrote last month, Pierre-Paul appeared ambivalent about returning to the club in 2015, stating, "Hey, if I'm here, I'm here, if I'm not, I'm not." JPP did deliver the usual platitudes while discussing how much he has enjoyed his time as a Giant, but for a struggling team that has a bevy of potentially franchise-altering questions to answer this offseason, a mega-deal for Pierre-Paul might not be the wisest investment, no matter how much cap room New York might have.
So what will a new contract look like for a player in the prime of his career who plays a premium position and who may hit double-digit sack totals for the second time in four full seasons in the league? Robert Quinn, a 4-3 defensive end who was drafted one year later than Pierre-Paul and who has put together three consecutive seasons of 10.5 or more sacks (including a whopping 19 in 2013), signed a four-year extension with St. Louis in September, a deal worth about $67MM.
That contract seems to be a fair benchmark for JPP, although he stands to make more on the open market than he would if he were to sign an extension with New York. Another reasonable comparison might be Justin Houston, a premier pass rusher from the outside linebacker position who expects to land a contract valued somewhere between Quinn's deal and the extension recently signed by J.J. Watt, a six-year pact worth as much as $100MM (with $51.8MM guaranteed). A five-year deal worth $80MM would seem like a fair price for both Houston and JPP, and that is about what I would expect both players to make on the free agent market.
Of course, the franchise tag remains an option, but as Paul Schwartz of the New York Post pointed out in October, the nearly $15MM projected cost of the tag "is impractical and probably impossible for the Giants to handle." Schwartz also notes that Pierre-Paul, who was just 21 when he was drafted, is hitting free agency at a younger age than most players, and his willingness and ability to stop the run is not only an underrated part of his game, but also an attribute often difficult to find among so-called pass-rush specialists.
The knocks on JPP, of course, are his injury history—he struggled with back and shoulder injuries in 2012 and 2013—his relatively modest sack total after 2011, and the fact that much of his success is based on his athleticism rather than his technique, which is still raw in many ways. But, as Schwartz wrote, and as Pro Football Focus evaluations indicate, the sack totals are not indicative of Pierre-Paul's abilities, and if he can complete 2014 in good health, the injury concerns may begin to fade. So while JPP's next contract will probably not match Watt's, he could get surprisingly close—especially in this era of the ever-increasing salary cap—and his departure would leave a very big hole in Big Blue. The Giants will have to decide if mending that hole is worth the price.
Follow @PFRumors