After being selected fifth overall in the 2011 draft, and subsequently leading the Jets to the AFC Championship game in each of his first two NFL seasons, Mark San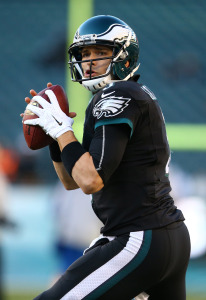 chez's career in New York came to an ignominious end earlier this year. He missed the entire 2013 season after suffering a shoulder injury during a preseason game, and was released on March 21, a week after free agency began. Sanchez quickly joined the Eagles, signing a one-year contract worth $2.25MM to act as Nick Foles' backup.
It's possible that Sanchez, given his lack of success with the Jets, was unable to find a starting role on the free agent market. However, many theorized that the USC product wanted to latch on with Chip Kelly & Co. in Philadelphia, play in a more dynamic offense than the one he struggled in in New York, and face better free agency prospects in 2015. If that was Sanchez's plan, it certainly worked out, as he excelled during the preseason, leading to trade speculation even before the regular season got underway. And while Sanchez surely wasn't hoping for an injury to lead to his ascension to the starting QB job, Foles' broken collarbone has allowed Sanchez to seize the signal-calling reins in Philadelphia.
Since becoming the starter in Week 8, Sanchez has performed well, completing more than 63% of his passes for 1,404 yards, eight touchdowns, and six interceptions, leading the Eagles to a 4-1 record and maintaining the top spot in the NFC East. Advanced metrics aren't as complimentary of Sanchez — Pro Football Focus grades him as just the 26th-best QB in the league since Week 8 (subscription required), while Football Outsiders ranks him 29th in DVOA (a rate stat that doesn't penalize for lack of playing time).
Nevertheless, Sanchez has kept the Eagles afloat in Foles' absence, as Philadelphia's offense has continued to function with its backup under center. Because of that, it's fair to look at the possibility of Sanchez remaining with the Eagles for 2015 and beyond. A November report suggested that Foles' future with the club was in jeopardy, as general manager Howie Roseman had grown frustrated with the third-year QB and had already begun researching alternatives. Kelly later denied the report's implications, but it's apparent that Foles is not the ideal quarterback for Kelly's system. Sanchez probably isn't the prototype for a Kelly offense either, but most insiders believe that he has more impressive physical tools than Foles.
The Eagles also have second-year quarterback Matt Barkley on the their depth chart, and while he's not a candidate to see significant playing time, it speaks to the muddled QB situation in Philly. Ideally, Kelly would surely prefer to add a quarterback like Oregon's Marcus Mariota — a mobile, dual-threat option perfectly suited to his offensive scheme. With that an unlikely possibility, the Eagles could look to retain both Sanchez and Foles, and let the two engage in a training camp battle. However, Sanchez would probably want to be promised a starting job, so if he does return to Philadelphia, Foles could become trade bait.
The more likely scenario, though, sees Sanchez depart Philadelphia in search of a long-term deal that ensures him a starting gig. He shouldn't have trouble finding a job, especially because quarterback talent is so diffucult to acquire. With even mid-tier options like Andy Dalton and Alex Smith receiving big money extensions, the QB market is usually barren, so a mediocre talent such as Sanchez can be rewarded on the open market. Additionally, Sanchez is clearly the No. 1 option among free agent quarterbacks. Brian Hoyer is the only other FA QB whom teams might feel comfortable employing as a starter, and it's safe to say that Sanchez will be in higher demand than the Browns quarterback.
So where does Sanchez fit? PFR's Luke Adams recently examined the state of the quarterback position around the league and identified eight teams who have no clear-cut 2015 starter. The Jets probably don't want to reunite with its former draft pick, and the Bills, Browns, Buccaneers, and Titans will probably turn to internal options or a high draft-pick next season. By my estimation, that leaves three teams that could show heavy interest in Sanchez during the offseason — the Texans, Washington, and the Rams.
We'll place the Texans and Washington in one bucket, as I think their level of intrigue regarding Sanchez could be similar. The Texans have all the pieces of a contending team in place except for a capable quarterback; Arian Foster is one of the best running backs in the league, and J.J. Watt and the rest of Houston's defense is excellent. The QB combination of Ryan Fitzpatrick and Ryan Mallett has been lackluster this season, however, limiting the Texans' upside. Fitzpatrick is under contract for 2015 but isn't guaranteed any money, while Mallett is injured and will be a free agent at season's end, though the team has expressed interest in retaining him. The club also has rookie Tom Savage, but Sanchez could add the boost the team needs to get over the hump.
Unlike Houston, Washington doesn't have a solid core to build around. The team has a few sound offensive pieces, but its offensive line and its defense could use some work. Regardless, the club is expected to move on from Robert Griffin III during the offseason, leaving a void at quarterback that neith Colt McCoy nor Kirk Cousins will likely be able to fill. Head coach Jay Gruden runs a offensive scheme that has some similarities to that of Kelly, with an air attack that focuses on accuracy and quick passes. It's a system that Griffin has failed to grasp, but one that Sanchez could potentially thrive in.
The best destination for Sanchez, though, might be St. Louis, where Sam Bradford is expected to be released after suffering yet another major injury. Like the Texans, the Rams have pieces in place to contend — Tre Mason and Stedman Bailey highlight a young offensive core, while the Rams' defense ranked 10th in defensive DVOA even before today's shutout of Washington. St. Louis showed interest in Sanchez before the season, and Rams offensive coordinator Brian Schottenheimer is familiar with Sanchez from the duo's time in New York. As PFR's Rob DiRe passed along last week, competent quarterback play could vault St. Louis into contention in the NFC West.
As Jason Fitzgerald of Over the Cap wrote in November, a player of Sanchez's caliber could generally expect ~$2MM to act as a serviceable backup. Now that he's proven his ability to return to a starting role, however, Sanchez could be looking for a larger contract. A handful of comparable QBs signed free agent contracts prior to this season — Kyle Orton joined the Bills on a two-year, $11MM pact ($5.5MM guaranteed), and Matt Cassel re-signed with the Vikings on a two-year deal worth $10.5MM ($5.25MM in guarantees). Sanchez has youth, upside, and better production on his side, so he can probably garner a more favorable deal than either Orton or Casseel did. A three-year pact in the $18-20MM range, with perhaps $8MM guaranteed, sounds about right, and I wouldn't be surprised if it's the Rams that offer that figure to Sanchez.
Follow @PFRumors