One of the more rapid rising stars in the game, Julius Thomas presents an interesting case in his first foray into free agency. The two-year starting tight end made next to no impact in his first and second seasons, hampered by lingering ankle maladies. But his ensuing two slates create a robust market for the athletic, yet frequently unavailable target.
Does Thomas' value lie in being an athletic tight end with elite ball skills, a package the Broncos haven't unleashed since Shannon Sharpe, who played under then-offensive coordinator Gary Kubiak for most of the latter half of his career? Or is he an injury-prone Peyton Manning product? Since the 26-year-old Thomas morphed into a red zone dynamo, with 12 touchdown receptions in each of the past two seasons, and has positioned himself as this market's top tight end, teams will bid big to find out.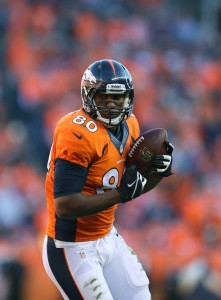 But the best offer for the 2011 fourth-round pick might not come from the Broncos. Now transitioning back to Kubiak's offense, which relies heavily on tight ends blocking and not splitting out wide as much, with multiple other dominant free agents to take care of — including Demaryius Thomas and Terrance Knighton — Denver may not be able to afford Julius Thomas' services. He may not even be in large font on the Broncos' offseason itinerary considering the scheme change and the numerous ancillary free agents from their 2011 draft class, which is easily the best under fifth-year GM John Elway's watch.
Undrafted Pro Bowl cornerback Chris Harris re-upped for 5 years and $42.5MM, and first-rounder Von Miller will play out his fifth-year option on a $9.7MM cap number next season from that class. But Thomas, left guard Orlando Franklin and free safety Rahim Moore (second round), middle linebacker Nate Irving (third) and in-line tight end Virgil Green (sixth) are all free agents who played key roles last season.
Thomas, who played for just $645K last year, has understandably been lukewarm to the idea of a hometown discount, something to which Demaryius Thomas and Knighton have been receptive. With Demaryius Thomas likely to be slapped with the franchise tag, as we discussed Tuesday, the Broncos will need to reach a long-term contract with Julius Thomas to keep him around. Even though Elway reiterated his desire to keep Julius Thomas in Denver in January, per Nicki Jhabvala of the Post, the former Big Sky basketball standout already turned down a deal that would've made him one of the league's top four highest-paid tight ends, a source told Kils in October. With a projected $26MM+ in cap space and more than a third of their starters unsigned, the Broncos likely won't bring back all of their top three free agents and may be stuck with just one after franchising Demaryius Thomas, should Knighton also receive a strong offer considering his career metamorphosis the past two years.
The case for the Broncos bringing back Julius Thomas depends on which version of Manning they think they're getting back. The future Hall of Fame quarterback has inflated the numbers for plenty of pass-catchers over the past 18 years, but assuming he returns for his age-39 season — this probably will be the case after the QB iterated his desire to return Friday night — he will need as much firepower as possible to keep the Broncos on their current course. Thomas' reputation as a bigger wide receiver who is ill-equipped for Kubiak's system may not be entirely accurate, either. The 6-foot-4, 251-pound Division I-FCS product improved from 2013 when Pro Football Focus (subscription required) tabbed him as the NFL's second-worst run-blocking tight end to last season when the site gave Thomas a positive grade and slotted him at No. 33 in the category — just two spots behind Rob Gronkowski.
Former Broncos head coach John Fox and OC Adam Gase in a way validated Thomas' market value by orchestrating a dramatic overhaul of the offense — to a C.J. Anderson-heavy ground approach — the week after Thomas encountered ankle turmoil for the fourth straight season. Not that there weren't additional factors in Manning's decline in the season's second half, but the Broncos' offense didn't look the same without its top touchdown target. Without Thomas at full strength, a level he didn't return to after his latest injury, Manning had just two games with a quarterback rating over 86 — against the Dolphins and Chargers, respectively. This precipitous fall came after Manning (22 TD passes and just three interceptions in the Broncos' first seven games) charted just one game under 110 in a stretch that wasn't a bad imitation of his 2013 MVP effort. Thomas had nine TD grabs during Denver's peak span and three multi-score showings.
The case against re-signing Thomas hinges on what the Broncos do with Knighton, how much they want to invest in the aforementioned 2011 draft class, how much money they allocate to reshape their offensive line and, perhaps most importantly, whether they feel the tight end's availability justifies his likely high re-up price. As TheMMQB's Peter King summarized last year, Thomas considered giving up football after a persistent ankle injury he sustained in 2011 dogged him throughout his first two seasons. Overall, ankle problems forced him to miss 28 games in four years. But teams with shaky tight end outlooks — the Raiders, Cardinals and Browns, to name a few — likely won't have as much of an issue with Thomas' negatives, considering a player with these numbers rarely reaches free agency.
If Jared Cook and Kyle Rudolph could ink $7MM-per-year deals within the last couple years — Cook as a free agent with production nowhere near Thomas' — Thomas has a good chance to earn top-five money at the position. That top five currently ends with Rudolph and starts with Jimmy Graham's $10MM-per-year contract signed last year, per OverTheCap.com.
Re-signing Green ($645K in his fourth season last year) or someone like Dolphins free agent Charles Clay makes sense if the Broncos don't want to meet Thomas' salary wishes, but for a team whose title window depends heavily on the success of an aging quarterback with fading arm strength, it might be prudent to keep his main weapons around — especially the one who is Manning's preferred option to finish off drives. The cap math adds up better for the Broncos if Manning renegotiates his salary — something we learned on Friday he could be willing to do — which is set for $19MM and a $21.5MM cap hit.
Photo courtesy of USA Today Sports Images
Follow @PFRumors