FEBRUARY 3RD, 5:42pm: Browns GM Ray Farmer released a statement regarding Gordon.
"As we have conveyed, we are disappointed to once again be at this point with Josh," Farmer said, according to ESPN.com. "Throughout his career we have tried to assist him in getting support like we would with any member of our organization. Unfortunately our efforts have not resonated with him. It is evident that Josh needs to make some substantial strides to live up to the positive culture we are trying to build this football team upon. Our hope is that this suspension affords Josh the opportunity to gain some clarity in determining what he wants to accomplish moving forward and if he wants a career in the Nation Football League. We will have no further comment on Josh as he will not be permitted in our facility for the duration of his suspension."
5:05pm: The NFL announced that it has officially suspended Gordon without pay for at least one year, according to Nate Ulrich of the Akron Beacon-Journal (on Twitter).
JANUARY 25TH: 3:50pm: Due to his suspension, Gordon will be under contract with the Browns through the 2016 season, at which point he will only become a restricted free agent, tweets Ian Rapoport of NFL.com.
2:50pm: Browns receiver Josh Gordon has failed another substance abuse test and will be subject to a one-year suspension, according to Adam Schefter of ESPN (Twitter link). Unlike his past bans, which were marijuana-related, Gordon reportedly tested positive for alcohol, a source tells Mike Florio of Pro Football Talk (on Twitter). Gordon will presumably miss the entire 2015 season.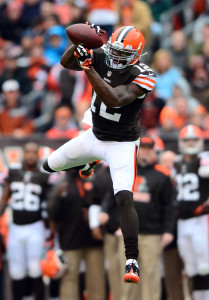 Gordon will be able to appeal the decision, but given his history of transgressions, it seems unlikely that the league will reverse course. Indeed, a source tells Florio (via Twitter) that a successful appeal is improbable, and that the one-year ban is a "done deal." An NFL player being suspended, or even being tested for, alcohol use, seems odd on its face, but Florio tweets that Gordon was being screened for alcohol due to his DUI arrest last year. The NFL's drug policy is clear on the issue: "Alcohol is prohibited only if a player's treatment plan explicitly prohibits alcohol," according to the agreement, which lists more than .06 grams per deciliter as a failed test, according to Albert Breer of NFL.com (Twitter link).
Since his entry into the league in 2012, Gordon's NFL career has been tumultuous to say the least. He missed the first two games of the 2013 season following a drug suspension, but then went on to lead the NFL in receiving yards, finishing with 87 receptions for 1,646 yards and nine touchdowns. Hopes were high for the 2014 season, but Gordon's off-the-field issues arose again, as he was first arrested for DUI, and then suspended for one year after again violating the league's substance-abuse policy. He was eventually reinstated after only 10 games as part of the NFL and the players' union agreeing to a new drug policy, which reduced the sentences for some players-in-limbo. The Browns subsequently suspended Gordon for the final contest of the season after he reportedly violated team rules.
This latest development could be the final nail in the coffin for Gordon's tenure in Cleveland. Trade rumors have surrounded the 23-year-old dating back to the 2012 season, as Browns coaches and management were reportedly growing increasingly frustrated with his actions. A trade is almost inconceivable now, as no club would part with draft pick compensation to acquire a player who will miss the entirety of the upcoming season. But a release seems like very real possibility, especially if Browns owner Jimmy Haslam, who reportedly blocked a Gordon-to-San Francisco trade, is fed up with his receiver's struggles.
Gordon was set to count $1.68MM against Cleveland's cap in 2015. About $565K of that total was due to signing bonus proration, money that the Browns could look to recoup following this suspension. Additionally, Gordon's contract will now toll for another season, making it unclear when he'll be a free agent. Because he wasn't active for six games in 2014, there was speculation that he did not accrue a season towards free agency. Gordon and his representatives had planned to appeal that decision or take legal action, but that point now appears moot, at least for the time being.
For the Browns, this latest development will mean ever more fluctuation for an offense that lost its coordinator, Kyle Shanahan, to Atlanta following reports of friction between the coaching staff and the front office. Not only will Gordon be absent more the 2015 season, but the club's other offensive playmaker, tight end Jordan Cameron, is a pending free agent, so it's possible he won't return. Quarterback Brian Hoyer is also an FA, while Johnny Manziel, last year's first-round pick, didn't show much in his limited playing time. It's fair to wonder if Cleveland will select a receiver in the draft, or perhaps target someone like Randall Cobb or Jeremy Maclin in free agency.
Photo courtesy of USA Today Sports Images.
Follow @PFRumors